Aarya Review: A Disney Hotstar Crime Thriller
Cast: Sushmita Sen, Chandrachur Singh, Vikas Kumar, Ankur Bhatia, Sikander Kher, Namit Das, Manish Chaudhary, Jayant Kriplani, Sohaila Kapur, Maya Sarao, Priyasha Bhardwaj, Sugandha Garg, Alexx O'Neil, Vishwajeet Pradhan, Jagdish Purohit, Flora Saini, Virti Vaghani, Viren Vazirani, Pratyaksh Panwar, Joy Sengupta
Directors: Ram Madhvani, Sandeep Modi, Vinod Rawat
IMDb Rating: 7.9/10
Looking for a perfect family thriller web series? Well, let me tell you, your search has finally come to an end. I welcome you to the review of Disney Hotstar's Web series Aarya. Have you heard the phrase "even in the best families shit happens"? well if you have, then you are going to relate this phrase to Aarya. The story revolves around Arya Sareen, a fit, stunning, and a mother of three who has everything a loving husband and a luxurious and perfect life.
But that's not what this story is all about. I'm telling you, till the very end you will be on the edge of your seats. The point is, Aarya will keep you busy till the very end. The web series is created by Ram Madhvani and Sandeep Modi. Arya is based on the Spanish series Penoza. It gives us the story of a woman who is somehow put into the hot seat of her fishy family business. You see, her family business was to grow and supply Afeem, which is a drug that is used for making medicines along with Heroin. Now that drugs are involved in a business, you cannot trust anyone even the people you thought had your back. And that's exactly what happened. She was betrayed by the people she thought were reliable. Now, if you are a woman you will go to any extent to protect your family and step up to the game, or as in this web series, you will pick up a gun.
The series comes under the genre of a crime thriller but it does have a strong emotional core as well. I have to admit that it is written beautifully with detailed characters and smooth storytelling along the way. But, that doesn't mean it is a perfect web series. I came across some downsides, some scenes that were way too contrived, and loose ends which I think you will find too. Apart from all that, I should say the series was implemented with utmost attention to detail.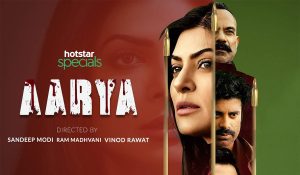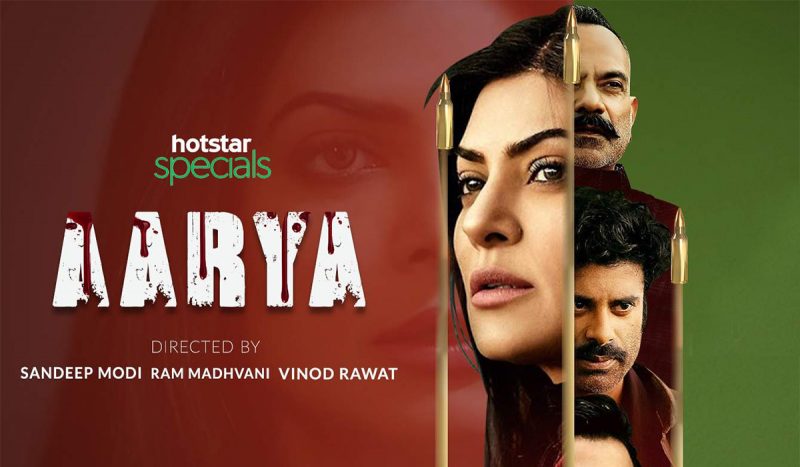 Aarya will take you to the beautiful lands of Rajasthan, which means you'll get to see beautiful homes, massive havelis, and the crime lords owned Polo teams, fancy cars, some cool shades, and massive factories. But not for one second you can take your eyes off of Aarya. I am telling you guys Sushmita Sen did a great job being the centre of attraction in this web series.
You might think that since everything around her is trembling down, a moment will come when Sen will get disoriented, but let me tell you she didn't. Most of the people out there are saying that they loved Sushmita Sen's comeback especially when she breakdown the orthodox mentality regarding women. She showed us exactly what women can do apart from taking care of their children.
What I liked the most about this series is a star-packed cast. Not only they are all good actors, they successfully maintained their image in this Sen centered web series. Following is a list of all the notable actors and what characters they played:
Namit Das, cocaine sniffing business partner
Jayant Kripalani, a man that she is no one but himself
Sohaila Kapoor as the vodka tippling
Manish Chaudhari, the cigar-smoking mob Boss
Priyasha Bhardwaj as Soundarya
Alexx O'Neil, Aarya's husband who loves Bhagavad Gita
Her children (Vir, Aru, and Adi), on the other hand, are written with great detail, since Arya is not just a designer mother but has always cared for their well being. They are not created with a two-dimensional motive. What I'm about to say is something you will relate to. Teenagers in our movies are not given their natural yet strong desire. We have never seen them experience their first sexual encounter.
There is a string involving Vir and his young girlfriend in the series which, to be honest is real. I really don't know whether this story was borrowed from the original or not, but I should say that it gives the series some weight. Other than that, there was seen involving a dead animal, which made me to which a little bit, but it did give the series some Godfather-like feel. At least that's what I think.
Suggested: Breathe Into The Shadows: An Honest Review
Vikas Kumar who played the character of ACP Khan was written with razor-sharp precision. He is the one who tries to get hold of the culprits but somehow Aarya gets herself stuck in those extraordinary circumstances. If you haven't guessed it yet then let me tell you, Aarya was portrayed as the kind of woman who will land on her feet irrespective of how hard the fall is. I have to admit that I just loved Sushmita's acting, and apparently she took the character to a whole another level. Now you guys must be thinking I'm just exaggerating her acting but you will agree to every single statement of mine when you see this series yourself.
The whole story is filled with intriguing family drama and endless characters who just made this web series one of the best ones released this year. I should say that it is a roller coaster ride sometimes you will be amazed and sometimes you will be put into the question of "what's going to happen next?"
As far as I know, there is a strong hint for a season to which I am anticipating and waiting eagerly to be honest. Now, that I am done with my thoughts about Aarya, I would say you should see this web series now; if you haven't, because you are missing out on a great story which is filled with brilliant actors, alcohol, and Afeem.