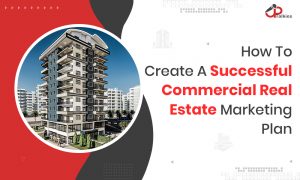 Commercial real estate is a sector that is constantly growing and evolving. Even though the real estate business may seem like a bed of roses, it comes with its fair share of difficulties. Challenges include gauging the market correctly, opposition from the neighbourhood, environmental conditions, and the possibility of financial losses, among other things. However, the biggest challenge comes in the form of competition. With so many people entering the commercial real estate field, the competition has increased manifold. 
Therefore, one needs to come up with an effective real estate marketing ideas to beat the competition. Devising a fruitful commercial real estate marketing plan may be tricky. However, we have got you covered with this article. Continue reading to understand how you can come up with a successful commercial real estate marketing strategy:            
Ways in which you can create an effective commercial real estate marketing plan
Develop a deep understanding of your business
The first and foremost step in your strategy development should be to understand your commercial real estate business inside out. Conduct a SWOT analysis of your business. For the uninitiated, SWOT stands for Strengths, Weaknesses, Opportunities, and Threats. Here is how understanding these four elements can help you in developing a deep understanding of your business:
     

Strengths:

When you have a clear understanding of your strengths, you can create a plan that focuses on elevating them furthermore. It is important to understand your pros well to ensure that they do not remain largely unexplored.

     

Weaknesses:

Acknowledging your weaknesses will help you to work on them. Living in denial about your firm's issues will only magnify them. Addressing the persistent problems will help you in creating a strategy that seeks to fix them.

     

Opportunities:

Figuring out the opportunities will help you stay ahead of your competitors. When you know what the future holds for you, you can create a strategy that focuses on maximizing these opportunities.

     

Threats:

Every business opportunity entails certain threats. Threats are usually external factors that have the potential to hamper your business in some way. Devising a strategy beforehand to deal with plausible issues will help you effectively reduce the risk factor as and when they prop up.  
Figure out your target audience
A real estate marketing strategy should be created, keeping the niche audience in mind. Knowing your target audience will simplify the process for you. Here's how knowing your target audience eases the procedure:
     

It gives you a beginning point:

Sometimes, people do not know where to start from exactly.  Knowing your

target audience

provides you with a starting point and helps you avoid confusion. When you have a clear-cut idea about where to start from, there won't be any delay in your real estate marketing journey.

     

Planning content becomes easy:

When you know the likes and dislikes of your target audience, it is easy for you to plan your content. You can easily build up a plan based on their likes.  

     

The success rate is higher:

By staying away from your niche audience's dislikes, you have a better chance of succeeding in your endeavor.
   

Indulge in online marketing
In the current day and age, it is of utmost significance to indulge in some solid real estate online marketing. Today, people from all age groups have access to social networking sites. Therefore, no matter what age group your target audience belongs to, you can always reach out to them through social media. Hence, it is pretty important to have a strong online presence. Here's a list of points you must consider to build a strong online presence:
     

Put videos on your landing page:

The best way to showcase your commercial properties is through videos. Your potential clients will be able to gauge your property better through videos than images. Videos will provide your clients with a 3D view. Since Google promotes video content, incorporating videos on your landing page will grab you more traction.

     

Actively engage on various social networking sites:

Different people like using different social media platforms. Therefore, being active on numerous platforms will help you increase your clientele. Again, post as much video content as you possibly can. Do not forget to attach relevant hashtags with each post for easy spotting.

     

Post useful content on your handles:

Even though it is advisable to post frequently, it is inadvisable to post random content. Posting irrelevant content decreases your credibility. Therefore, refrain from posting sub-standard content on your social media handles. 

     

Upgrade your existing profiles:

In this techno-savvy world, audiences like associating with businesses that come off as professional. Therefore, it is pertinent to give your existing profiles an expert feel. Do not talk about your commercial real estate business on your personal Instagram handle. Upgrade to a business account. Similarly, create a separate page for your real estate stint on Facebook. Establish yourself as a business on WhatsApp. All of these things will help you in building a positive brand image. 

     

Track your progress with online tools:

When you make a business account on Instagram or Facebook, you get access to various tools. These tools will aid you in keeping a tab on your progress. This way, you know what sort of properties your clientele prefers. Ensure that you make the most out of these tools. Underutilization of these tools defies the purpose of having a strong social media presence.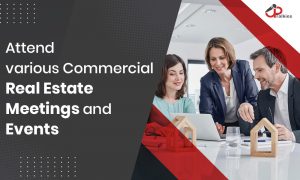 Attend various commercial real estate meetings and events
As a business person, keeping yourself updated always comes in handy. The more events and conferences you attend, the more your horizons broaden. Not only do such meetings contribute to the knowledge factor, but they also help you in networking. When you attend industry-specific conferences, you get to interact with other professionals from the field. These professionals can provide you with various insights on expanding your commercial real estate business. You might also run into potential clients at such events. Hence, attending conferences and events paves a way for you to develop a successful marketing strategy for your commercial real estate venture.   
Conclusion
An effective commercial real estate marketing plan needs to be wholesome. One needs to have a solid understanding of the various aspects of your business to create a well-yielding strategy. You also need to well acquaint yourself with your target audience's likes and dislikes. Actively endorsing your products/services online will be highly assistive in notching up your game. Lastly, networking will help you seal the deal. Therefore, by focusing on these elements, one can build a successful commercial real estate marketing plan.