Akshay Kumar, Kiara Advani, Kareena Kapoor, and Diljit Dosanjh are the stars behind what people are referring to a "comedy extravaganza".
To be honest, the movie has been creating a buzz ever since its trailer was released.
The movie stays true to its on-paper genre i.e. comedy.
Speaking of comedy, you'd be surprised to know that this movie is full of it, right from the beginning to its very end.
Akshay Kumar as always brought in his comedy timing combining with his class acting.
Along with Akshay, in comes Diljit Dosanjh who played the character of a Punjabi guy, and Diljit, being funny as always, stole the show with Akshay quite effortless, well that's what it seems like.
Speaking of girls, well, both of them were just phenomenal, it looks like comedy suits them way better than any other genre.
• Cast – Akshay Kumar, Kareena Kapoor Khan, Diljit Dosanjh, and Kiara Advani
• Director – Raj Mehta
• Producer – Hiroo Yash Johar, Aruna Bhatia, Karan Johar, Apoorva Mehta, Shashank Khaitan, and Akshay Kumar
• Ratings – 3.5/5 and IMDb: 7.9/10
• Collection (As of now) – India: Rs 127.90 Cr.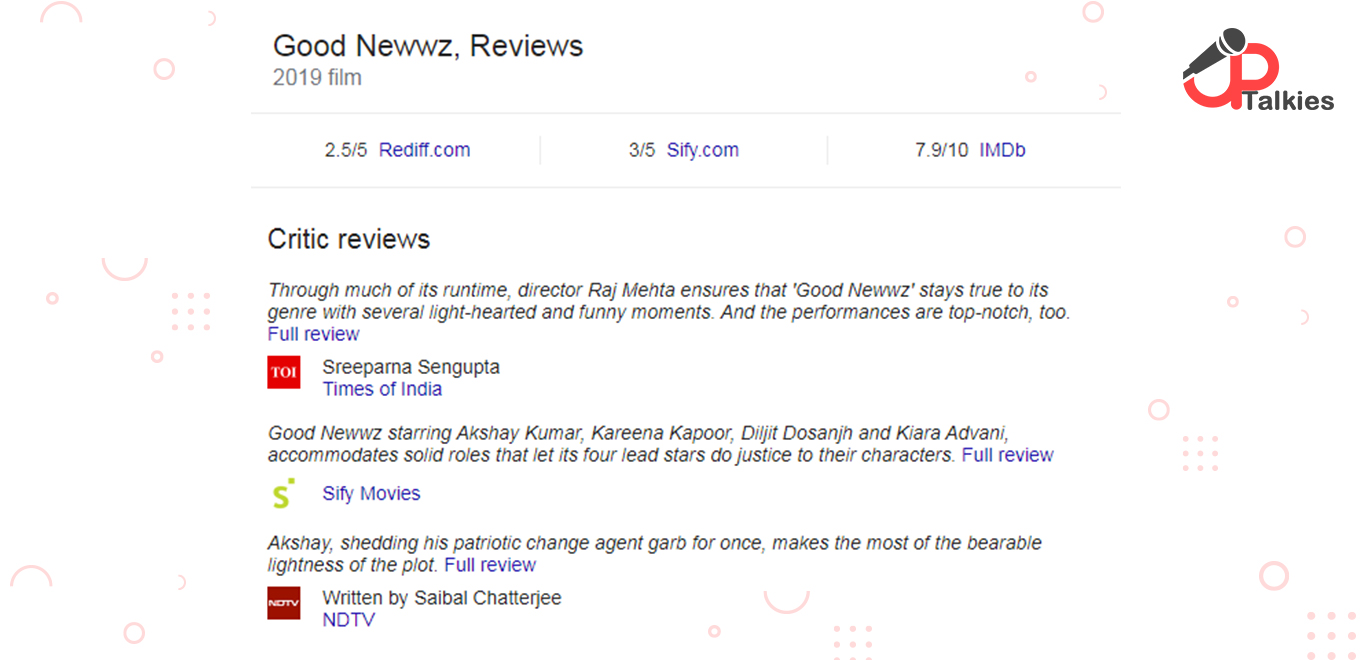 Now Let's Talk About Its Story.
Deepti and Varun (Kareena Kapoor Khan and Akshay Kumar) is a posh couple living Mumbai and are much involved in their respective careers. Deepti, on the other hand, has her mindset on having a baby, and after trying a lot and family taunts, they decide to consult one of the best specialists in the city. The doctor advises IVF and they are ready for it, and that's when the real comedy kicks in.
Only days after the procedure, they are told that there has been a sperm mix-up with a couple that has the same last name.
Now, enter the Batras from Chandigarh, honey and Monika (Diljit Dosanjh and Kiara Advani). They are a loud Punjabi couple and now they are in a clash between the two sets of Batras.
As both actresses soon find out they are pregnant, the rest of the film forms how both couples strive hard to deal with the issue.
To conclude, I have to say that "Good Newwz" is a movie that is dominated by comedy and worth every single penny of yours.