Top Actors In India
India always comes into the list of superpowers, be it machinery, ammunition, entertainment, or any other profession. The way people of India works are great and unique. They hone a set of skills and are doing amusing work that is accoladed across the globe.
India has been a home of great stars and superstars but there are actors who are remarkably known by their charismatic personality, aura and are praised all over the world.
India is a diverse nation, so it isn't just Bollywood that delivers you delighting content. Two major other entertainment industries other than Bollywood also blend in and are known for their better storyline and cinematographic namely Tollywood, and Kollywood.
So, today I am going to tell you about the top actors in Indian cinema and these are not some random I am selecting from the catalog but these are loved by the people and have nominated as the top actors in India by fans.
Top 10 Actors In India Of All Time
Amitabh Bachchan is the most influential actor in the Indian cinema. He gained popularity in the early 1970s for movies like Zanjeer and Deewar. A few famous dialogues of his movies are trending till now as who can forget "Rishtey me to hum tumhare baap lagte hain, Naam hai Shahenshah". His father "Harivansh Rai Bachchan" was a renowned poet.
He is an actor, producer, television host, occasional playback singer. His famous hosted show "Kaun Banega Crorepati" is well-liked by audiences. He received many awards and has been honored with Padma Bhushan, Padma Vibhushan by the Government of India. He has also been honored with Knight of the Legion of Honour by the Government of France.
Referred to as the "Badshah, king khan, king" of Bollywood and is one of the top actors in Indian cinema. The actor has around 3.5 billion fans across the world as published by Time magazine. He has done over 80 Bollywood films and has earned numerous accolades. A few of them are 14 Filmfare awards, Padma Shri, and many more. He has been honored with Ordre des Arts Lettres and legion of Honour by the Government of France. He has also hosted the Indian version of "Who wants to be a millionaire" franchise. What he is totally his hard work and talent paying off.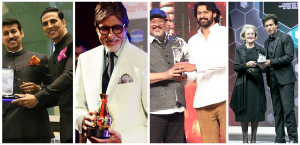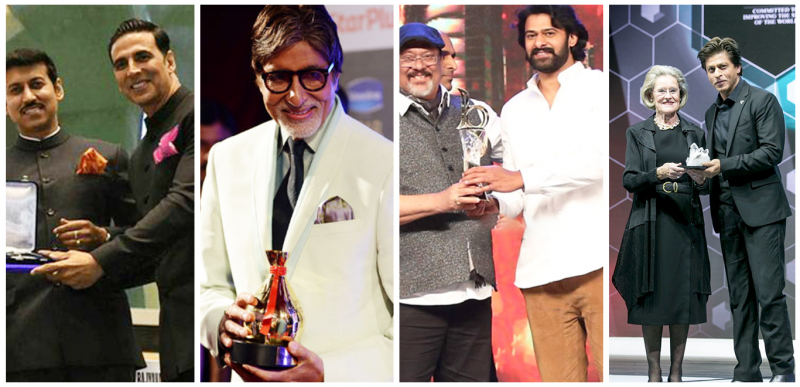 An Indian actor who works in Hindi, Telugu and Tamil films. He is the first south Indian actor who has a wax statue at Madame Tussaud's wax museum. His movie series Bahubali has been well-appreciated by the audience all over the globe. Both the movies come under the list of 5 highest-grossing Indian films. He has been awarded 4 awards and has name highlighted in 12 recognitions. He is a versatile actor and his audience is crazy about his pretty smile. A strong personality makes him the Bahubali in his real-life too.
Akkineni Nagarjuna was born on 29 august in an Indian actor, producer, majorly known for his works in Telugu language films. He has received nine state Nandi Awards, three Filmfare awards south, and a National film award. His unique dialogue delivery is well appreciated by the audience. He is a well-decorated actor who has been doing the interesting scripts that engages the audiences at a vast level and that makes him on the list of top 10 actors in India in all time.
His real name is Shivaji Rao Gaekwad, professionally known as Rajnikanth. He majorly works in Tamil cinema. Hailed as Thalaivaa or superstar is the most loved and praised actor in South India. Each time he releases a movie, the audience lit up crackers outside the theatres, they come with bands singing songs and showing a high level of enthusiasm for his beloved actor. He has been accoladed with many awards like state film awards, four best actor awards, two special actor awards, Filmfare, Padma Bhushan, Padma Vibhushan, and the list goes on. His success story from a bus conductor to being an icon is a big journey in itself.
'Rajiv Hari Om Bhatia' is the real name of Akshay Kumar who was born on 9th September 1967 is an actor, producer, martial artist, and television personality who works in the Bollywood Films. He has played a diverse role and the movies do not cover main streamline stories. They cover real-life events and has appeared in more than 100 films and has won several awards. He is one of the most successful Bollywood actors of all time. He is the first Bollywood actor whose Films domestic net lifetime collections crossed over 20 billion INR by 2013 and 30 Billion INR by 2016. He is one of the prominent actors of the industry who has gained fame for his drama, romantic and comic roles, and a real stunt actor. His recent works include airlift, Rustom, Padman, Toilet, and many more.
He is the "BHAI" of Bollywood. An actor, producer, occasional singer, television personality. He has a career span of over 30 years and has received numerous awards majorly, two Filmfare respectively for producing and acting. He is cited as the most commercially successful actors of both world and Indian cinema. His NGO being human works for the welfare of the community and is the host of the reality show Bigg Boss 2010 till now and is one of the top actors in India by fans.
Mohammed Aamir Hussain Khan was born on 14 March 1965 is an Indian actor, director, television talk show host. He has established as the most influential actor in the industry, his work is accoladed across the globe and has received many awards for the same.
Suggested: Corona Warriors – The Real-Time Heroes
An Indian film actor who primarily works in the Telugu Cinema. He has delivered high energy performances in many movies and is now the personal favorite of all the females in the audience as well as in the industry. He has been nominated and awarded many times for his work and dedication to the film industry.
The actors should have on number one on the list. A remarkable person in the industry who is an Indian film and a stage actor. He has been awarded 3 national film awards, 3 Filmfare awards, and awards at the Venice Film festival. He is also accoladed with Padma Shri and Padma Bhushan award for his contribution to the film industry.
Conclusion:
There are many more finest actors of the Indian cinema who are missing out on the above list. And many legends whose contributions are still loved by the people have left the world. Few of them are Kadar Khan, Devanand, Rishi Kapoor, Irrfan khan, Rajesh Khanna, Raj Kapoor, and many more. so, all the above list includes all the most influential top 10 actors of all time.