Kerala is a gift of the Arabian Sea. Kerala is termed as God's Own Country- and it holds its pride in exotic beaches that raise the oomph factor of the state, enchanting waterfalls, admirable hill stations, mesmerizing lagoons, and elusive scenic beauty.
There's no double thought about the fact that Kerala is one of the must-visit places in India. The coastal state spread between the Western Ghats and the Arabian Sea is pleasing throughout the year. Travelers from different countries and regions pay a visit to this mesmerizing place at least once as there is something for everyone in this coastal paradise.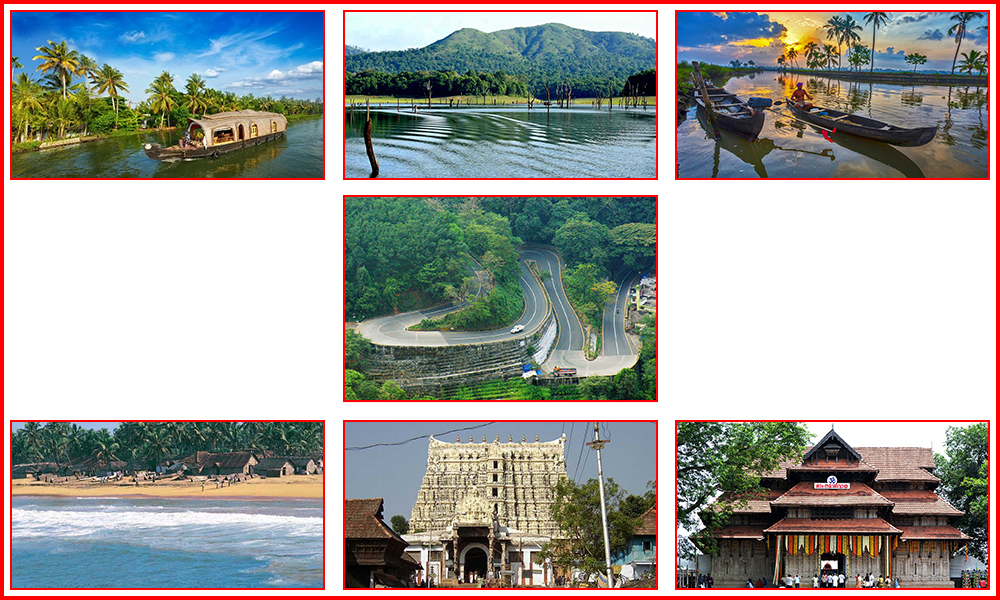 Today, courtesy of this blog, we will take you on a virtual journey of the state to make up your mind to visit Kerala at least once for real. So, without any further ado, let us start.
Allepey or Alappuzha 
Allepey or Alappuzha is known as the backwaters paradise of Kerala. It is one of the unmissable destinations in Kerala. Allepey attracts tourists for its alluring ride through the backwaters via houseboats. Cruising along the Vembanad Lake, you can witness one of the most stunning and mesmerizing scenic beauty instigated with lush greenery.
Being the hub of some of the most outrageous places to visit in the state, you should not miss out to visit places like,
Mannarasala Snake Temple
Krishnapuram Palace
Champakulam Valia Palli
Ambalappuzha Sri Krishna Temple
Chettikulangara Devi Temple
Laccadive Sea
Alappuzha CSI Church
Thekkady 
If you are one of those who get their kick from exploring wildlife and adventures, Thekkady is the place to be. It is one of the widely recognized wildlife attractions in South India. Thekkady houses the Periyar National Park, known for multiple rare and endangered species of flora and fauna.
Boat cruising and bamboo rafting are the two of the most common activities you can do. Mangala Devi Temple, Murikkady, Anakkara, and Chellar Kovil are some of the must-visit places in Thekkady.
Kottayam 
Kottayam is another beautiful backwaters destination in Kerala that will mesmerize you with its alluring picturesque scenic beauty. Kottayam is one of the most sought-after destinations in Kerala.- It is bordered by the Western Ghats on the east and the Vembanad Lake & paddy fields of Kuttanad on the west.
Kottayam is also known as Akshara Nagri, owing to its contribution to literature and print media. If you are a history lover, this place caters to history for you in the most extraordinary manner. You can also find varied spices freshly dried up in the pan.
Wayanad 
Wayanad is among the primary hill stations in Southern India. Wayanad is home to tea, coffee, pepper, cardamom, and other spices. Not only spices, but you can witness some natural beauty like waterfalls, lakes, caves, dams, etc.
One of the best things about Wayanad is its pleasant weather that will amplify your stay and visit. Muthanga Wildlife Sanctuary is one of the places to be in Wayanad as it boasts species like Bison, Cheetah, Bears, and Spotted Dear.
Kozhikode 
Kozhikode is an abode for multiple dynasties that have left their mark on the city. Originally called Calicut, Kozhikode is among the must-visit attractions set on the Malabar Coast. Apart from the natural scenic beauty, Kozhikode is popular for temples, churches, wildlife sanctuary, waterfalls, and historical monuments.
Visiting Kozhikode, you should not miss out on its authentic cuisine. The cuisine is influenced by Arabic and Chinese culture. Therefore, you will taste something new that will last in your tastebuds for long.
Trivandrum or Thiruvananthapuram 
Trivandrum is the capital city of Kerala and one of the prime tourist places in the state. Trivandrum boasts multiple exquisite attractions that range from beaches to lush greenery and historical temples.
Trivandrum is also the home of one of the most mysterious and ancient Shri Padmanabhaswamy Temple that is one of a kind. Also, you can visit Poovar Island, Zoological Park, Chowara Beach, Napier Art Museum & Gallery, etc.
Thrissur
You must have heard about the Thrissur Pooram festival. This festival is the pride of Thrissur, which is also known as the Cultural Capital of India. Besides the Pooram festival, Thrissur is also home to several Kerala cultural centers like Kerala Kalamandalam, Sangeetha Nataka, and Sahitya Academy.
Thrissur was among the oldest sites of human settlements, and still, there are many relics of megaliths and dolmens that belong to the Neolithic period. Some of the prominent places to visit in Thrissur include,
Athrapally Waterfalls
Shakthan Thampuran Palace
Viyur Jail Park
Vadakkunnathan Temples
Thrissur Zoo
Paramekkavu
Thiruvampadi

Suggested: Best Sports Bikes In India In 2021
Time to wrap up: 
Kerala is an exotic place to visit in India. The scenic beauty comprising waterfalls, lush greenery, and hill stations are blended with the ancient religious history of the state, making it a must-visit destination for ardent travelers. If you haven't been to God's own country, I urge you to visit this exotica and mesmerizing place at least once. So with that, we wrap up this post featuring some of the most alluring places to visit in Kerala- God's Own Country.