Chattisgarh is one of the ardent tourist attractions for wildlife lovers. It is a state located in Central India and, also known as the Rice Bowl of India. Formerly, Chattisgarh was a part of Madhya Pradesh, but it was granted statehood on November 1, 2000.
Due to its scenic beauty, cultural heritage, and deeply rooted traditions, Chattisgarh has always been up on the bucket list of tourists. The tourists come here to experience the rich culture of the state that comprises folk music, tribal dance, art & craft, festivals, and fairs. Chattisgarh profoundly speaks volumes for the tribals and their culture who reside in the interiors of the state.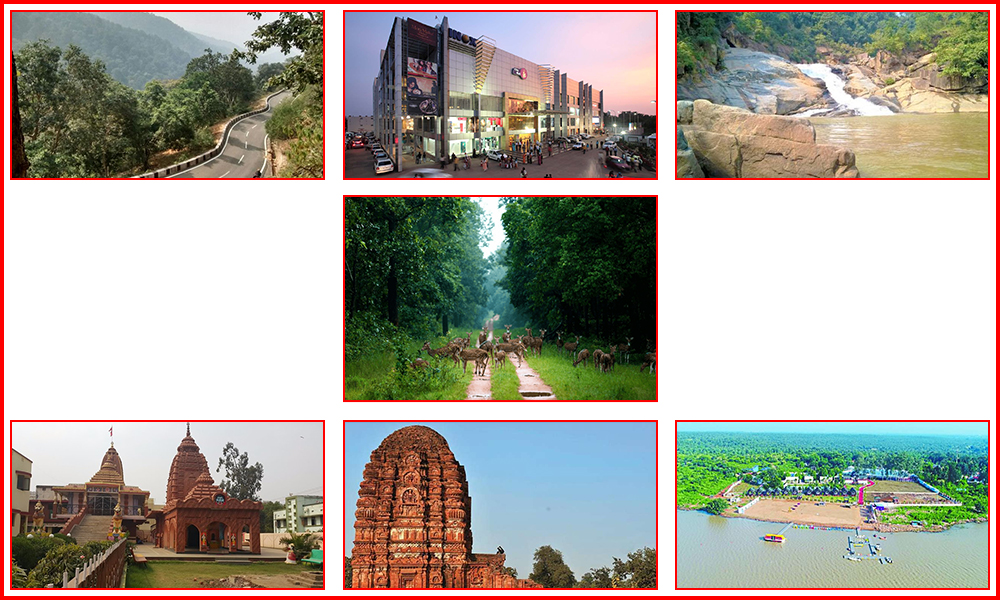 The well aroused diversity of the state is something that attracts every tourist. Therefore, in this blog, we have curated a list of the best places to visit in Chattisgarh that have been attracting tourists for a long time. So, without any further ado, let us start with the list.
Mainpat
Let us start the list with a hill station, and what better it could be than Mainpat. It is a tantalizingly outrageous hill station and a home to deep valleys, green pastures, dense forests, small rivers, and waterfalls. Not many tourist activities take place here making Mainpat more alluring and captivating.
If you are one of those who loves spending some quiet time in nature's surroundings, this is the perfect place to be. The Dhakpo Shedupling Monastery, Tiger Point, Fish Point, and Daroga Jharna are among the popular places to visit in Mainpat.
Raipur
Raipur is the capital city of Chhatisgarh and one of the most commercial cities in the country. Raipur is known for steel plants and mills, ut apart from being commercial, it is also a city filled with natural attractions, lakes, temples, wildlife fascinations, and education centers.
Raipur is vivid in nature and caters to some of the most beautiful attractions. These include Barnawapara Wildlife Sanctuary, Dandak Cavesm Kanha National Park, Chitrakoot Falls. Apart from scenic and cultural beauty, Raipur is famous for its cuisine as well.- This includes Farram Muthia, Chilla, etc.
Charre Marre Waterfall
The Charre Marre Waterfall is known for providing a refreshing nature picturesque view near Raipur. It is one of the best places to relax and unwind yourself. The outstanding waterfall falls from an altitude of 16 meters with tumultuous sound to merge in tributaries.
You can witness clear waters that navigate from the nearby Jogidhara River that create an unmissable picturesque view. So, if you are looking for a peaceful yet breathtaking scenic view, Charre Marre Waterfall is the place to be.
Barnawapara Wildlife Sanctuary
Chattisgarh and wildlife can never be separated, and one of the most outrageous places to visit to witness wildlife is Barnawapara Wildlife Sanctuary. It is home to the Nawapura and Bar forest villages.
This Wildlife Sanctuary was established in 1976 and is spread across 245 sq km. Barnawapara Sanctuary is known for rich and lush vegetation that caters to a wide spectrum of wildlife in the region.
Bhilai
Bhilai is located 25 km from Raipur and is famous worldwide for its steel plant named the Bhilai Steel Plant. Managed by Steel Authority of India Ltd (SAIL), it is one of the largest steel plants in India and an all-important commercial establishment in the country.
Apart from being a significant commercial hub of India, Bhilai is also a cultural hub as many religions & languages get practiced here. Also, Bhilai is one of the vital centers for academics in the state and houses many educational institutions. You can visit Bhilai any time of the year and experience natural spots and lush green environment to explore its natural beauty.
Sirpur
Sirpur is a small village in Chattisgarh situated on the banks of the Mahanadi river. It is almost 78 km away from Raipur and 35 km away from the Mahasamund district. Sirpur is an all-important archaeological hub as many facts and gems were found here, making it one of the best places to visit for spirituals.
Numerous Buddhist monasteries recite the rich historical importance of the place, which provokes the history buffs to pay a visit. The Lakshman Temple, Teevardev, Baleshwar Temple, and Buddha Vihara are among the famous places to visit in Sirpur.
Dhamtari
Dhamtari was once the home to Calukya Empire in the 14th century, and since then, it has become one of the famous tourist towns of Chattisgarh. The Ravishankar Water Dam is one of the most alluring places to visit here and the best time is monsoon when you should be planning a visit here.
The town has a population of around 82,000, and its scenic beauty attracts many tourists every tear between October to March.
Suggested: 10 Most Beautiful Places To Visit In Madhya Pradesh
Time to wrap up: 
So that concludes the post for the best places to visit in Chattisgarh. The Bhilai Steel Plant is one of the biggest attractions in Chattisgarh and numerous majestic waterfalls give you views of sumptuous nature that makes you go ga-ga. If you haven't explored Chattisgarh yet, it is high time you do so and dwells into its mesmerizing beauty.