Shilpa Shetty's Fitness, Workout And Diet Secrets
The Bollywood industry is full of actor/actresses that are known for their fitness freak mode. Actresses like Shilpa Shetty, Jacqueline Fernandez, Disha Patani and more are known for their fitness and diet. Among the many actresses, there is one which we will talk about here today.
Shilpa Shetty Kundra is one of the few actresses who has maintained her gorgeous look throughout all these years. The fashionable diva has crafted herself well in personality and beauty since the very beginning of her first film Baazigar (1993).
Imagining What Describes Her Personality? 
The toned figure, flawless skin, slender waistline, lustrous hair, and stunning body are the wondering aspects to all. After having the crown of Big Brother 5, not only Indian but the people across the globe become inquisitive about her fitness mantra.
Shilpa Shetty For Weight Loss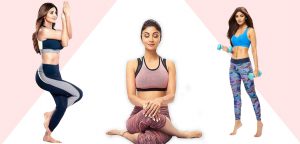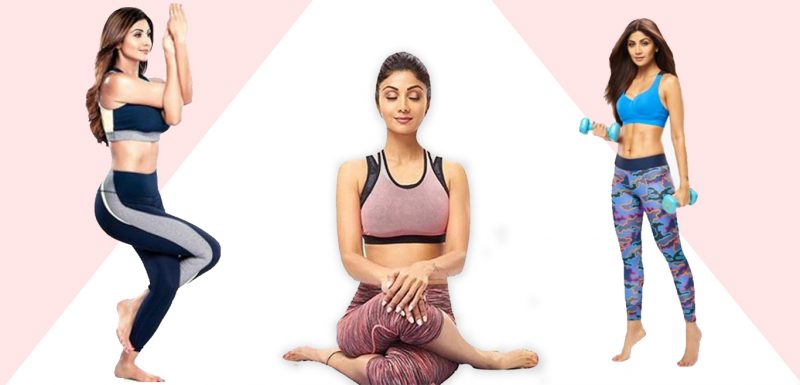 The bold actress chooses Yoga because of her neck pain. Her physiotherapist suggested yoga for her neck pain. In no time, she gradually becomes deep-rooted into the charms of Yoga and started practicing ashtanga Yoga. S.S. Kundra has one of the hottest bodies in the film fraternity and a greater credit goes to her love towards Yoga. She has released three audio-visual Yoga CDs covering yogasanas and pranayam. She has narrated beautifully and aesthetically how yoga should be practiced in the right manner.
In an interview, she said 'The release of the DVD is not for the money but to convey the message of her fitness secrets to her millions of fans'. She has expertise in Yoga and believes that Yoga has the power to soothe everything such as the body, mind, and soul.
Weight Loss After Pregnancy
Before giving birth to her son Viaan, the stunning beauty grew eight pounds. To shed her post-pregnancy weight, she started working out with light exercises such as cycling and walking.
Initially, it was 20 minutes and gradually increases the intensity of workouts. It is to surprise everyone that within 10 months, she lost 20 Kg. With a newborn baby, it is very difficult to shed extra pounds as the new little one requires continuous attention. However, she executed her workouts when the baby viaan was asleep in the afternoon.
Yoga Poses To Be Practiced Daily
Shilpa suggests the following yoga poses to be practiced daily for general well-being and weight loss:
For nervous system- Makarasana
For smooth digestion- Padahastasana
For menstrual cramps- Dhanurasana
For boosting metabolism- Bhujangasana
For blood circulation- Utthanapadasana
For increasing stamina- Virabhadrasana
For improving stability- Vrikhshasana
Shilpa Shetty Kundra Diet Plan
The beautiful actress likes to eat a well-balanced diet and prefer eating some wholesome foods to keep herself fit, slender, skinny, and healthy. Currently, she is on a diet that involves only 1800 calories per day.
She starts her morning with Amla Juice and likes to take carbohydrates, especially, brown rice, brown pasta, brown sugar, and brown bread- almost things which are low in glycemic index.
Her wholesome foods cover Salmon, turkey veggies, and a few more that are only prepared in olive oil.
Before she hits the fitness area for her everyday yoga practice, she wakes up with lemon water and green tea with honey as it increases metabolism.
After the rigorous workouts, she takes protein shake, eight black raisins, and two dates. She hardly takes snacks between her meals. Give more weightage on a balanced diet.
The Diva finishes her dinner by 8 PM and takes at least three hours before hitting the bed, so for the smooth digestion.
Look at her schedule of the whole day-
Morning: She started her day with Aloe vera or amla Juice followed by porridge and tea with brown sugar.
Alternatively, she also goes for low-fat milk, idlis, or paneer bhurji toast.
Lunch: She prefers brown rice, chapati, dal, chicken curry, and vegetable that are good in high fiber.
Alternatively, she also begins with clear soup, followed by a small portion of greens and salad, red or brown rice along with sautéed veggies.
Evening: She is a fan of homemade desi ghee and prefers to have makhana roasted in it. She also loved air-popped popcorn along with green tea. A small portion of fruits and nuts is necessary for her plate.
Dinner diet: S.S. Kundra is an early eater and prefers to keep her last meal light, which includes a thin soup, roti, and a small portion of vegetables.
Suggested: How To Boost Immune System To Fight Coronavirus?
Let's Look At Her Beauty Regime
In the morning, the beauty washes her face with warm followed by cold water and then use a moisturizer.
She rarely uses any soap
Before going to bed, she likes to cleanse her face with a mix of olive oil, bio-oil, and Johnson's baby oil. She cleans her face with the cotton wool or hot towel.
The Bollywood glam drinks ten glasses of warm water per day to keep her skin hydrated.
She likes to do a deep-tissue massage spa.
For eyes, she is interested in an eyelash curler.
She loves to keep her hair straight by blowing dryer instead of her hair straighteners.
Conclusion: 
'Nothing in life is achievable without discipline and dedication, not even good health'. As a 'Health Advocate', Shilpa Shetty Kundra firmly believes in these words, and it reflects in her book 'The Great Indian Diet' that she has co-authored with celebrity nutritionist Luke Coutinho. She has also launched her app in which she tells everything about Yoga and meditation.