Nepotism In Bollywood Industry
The untimely and tragic demise of young and talented Actor Sushant Singh Rajput has left his fans and close ones stunned. All the social media platforms and media are flooded with the grief of the heartbreaking suicide of a successful star like him. All suicides come without warning, but they do show notable signs. It takes a mindful society to recognize the suicidal symptoms. And in Sushant's suicide, many infamous and renowned Bollywood actors and producers are reportedly held responsible for the depression the 'Kai Po Che' actor was going through. The year 2020 has been harrowing for the Bollywood industry with heart-wrenching news of Bollywood's favorite stars and veteran actors. Amid such losses came the story of Sushant Singh Rajput's suicide.
The death of this young celebrity gave new definitions of the prevailing trends of nepotism and hypocrisy in Bollywood. Many of Sushant's friends from Bollywood are raising their voice against nepotism, saying that it has severely damaged his career and mental health.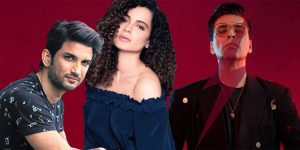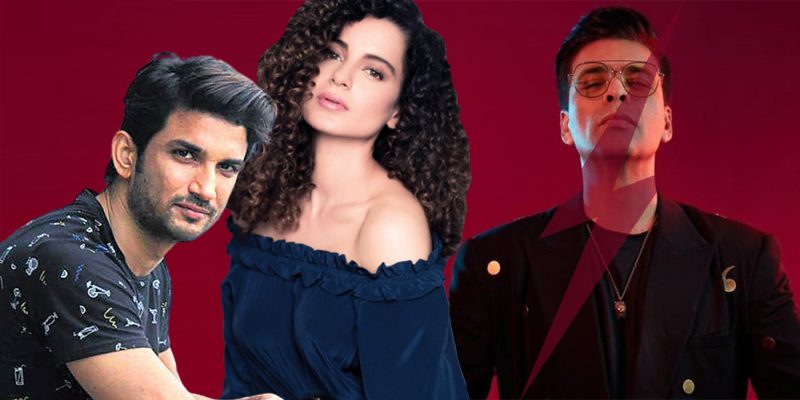 The well-established and famous Producer-director Karan Johar has also been pointed out the nepotism theory. As per many actors in this industry, the concept of 'favoritism' in Karan Johar's movies and casting choices is impacting the struggling and hard-working actors like Sushant Singh Rajput. To some comprehensible extent, given that a big part of Johar's recognition and eminence has risen from his aptitude to twist the enchanted circle of friends to his benefits. However, it would be unfair to corner him only because he is not the only one behind the nepotism trend in the Hindi film industry. The stern and bold actress Kangana Ranaut also raised her voice against the dirty concept of nepotism.
Sushant was a young talent from Bihar who had proven his mettle in the industry for his versatility and incomparable expertise. He had begun his journey with a gleaming television career, with Pavitra Rishta propelling him to stratospheric notoriety. It is being told that many of Bollywood's privileged actors and directors were ostracizing and ridiculing him. It is perhaps one of the highlighting reasons that led Sushant to end his life. Let us dive deep into the concept of origin, cause, and remedies of nepotism for any industry.
The actor has given remarkable movies to the Hindi film industry. Movies like PK, MS Dhoni- The Untold Story and Chhichhore made the actor increased Sushant's fan following.
What is Nepotism
The term 'Nepotism' is derived from Italian word nepotismo, based on Latin root Nepos, meaning 'Nephew.' It means, 'practice among those with power or influence to favor relatives or friends, especially by offering them seats of profit.'
Origins
It appears to have originated from Catholic Popes and Bishops in the Middle Age. They had taken vows of chastity (sexual abstinence) and, therefore, offered positions of preference to their nephews, in the absence of their legitimate off-springs, as accorded by a father to a son.
Cause
Since times immemorial, the underlying cause of ill-will and favoritism has been Lust and Greed intending to hold on to power positions. It leads to unrest and anarchy in civil society. Where there is power, there is a luxury, and the virtues of morality are automatically suppressed and ultimately vanish. One is continuously involved in maintaining the Seat of Profit for oneself and those of the same origins.
The examples of nepotism are not very hard to find, neither in the past nor the present set-up of the so-called 'Civil Society.' The cases are strewn all around and are not hard to locate.
Nepotism takes its toll on talent and caliber and results in untimely wiping off skill and ability, especially human beings.
The untimely demise of popular actor Sushant Singh Rajput has left his fans and followers and the entire Bollywood industry in shock. The social media platforms and all the other media are heavily flooded with nepotism in Bollywood.
The Bollywood industry is pointing at many popular actors and producers who were perhaps responsible for the young actor's suicide. The outrage and angst among the fans, followers, and Bollywood celebrities is evident. The rule of law can punish but can make nepotism vanish from society.
Suggestive Remedies
In a democratic form of government, the basic principle is the power to the people by ensuring equal rights for the citizens.
The need of the hour is to implement the rule of law in letter and spirit. Equal opportunities need to be accorded in all spheres of activities to the citizens and secondly to ensure that the selection processes are transparent and implemented in a time-bound manner.
Secondly, there must be a particular tenure that must be associated with a seat of profit. The selection process must ensure that no retention and extension be possible beyond that tenure.
Although it is challenging to implement the principle of specific tenure, as far as the entertainment world goes, a certain amount of rotational policy can be adopted so that all equally talented can enjoy a piece of cake, though somewhat small in proportion and proportion.
Suggested: Paatal Lok: A Piece of Gem on Amazon Prime Video
The thought of any producer that an actor is not just competent enough 'to have coffee with' can prove to be disastrous for young talent. It is indeed the right and duty of any producer or director to look for a perfect actor. Still, it's high time realizing the difference between choosing talent and getting into nepotism.