Biography Of Nelson Mandela
Rolihlahla Mandela, born on 18th July 1918 into the Madiba clan in the village of Mvezo, in the eastern cape. His mother was Nonqaphi Nosekeni and his father was Nkose Mphakanyiswa Gadla Mandela, principal counselor to the Jongintaba Dalindyebo, then acting king of the Thembu people. In 1930, when he was 12 years old, his father died and the young Rolihlahla became a ward of the Jongintaba at the Great place in Mqhekezweni. He grew up hearing the stories of his ancestor's valor, during the wars of resistance. The Dream of making his contribution to the freedom struggle of his people.
SCHOOLING
He attended primary school in Qunu where his teacher, Miss Mdingane, gave him the name Nelson. The school he went to has a custom of giving all schoolchildren "Christian" names.  He completed his junior certificate at Clarkebury boarding institute and matriculation from a Wesleyan secondary school. He completed his BA through the University of South Africa and went back to Fort Hare for his Graduation in 1943. 
Entering Politics
Nelson Mandela joined the African National congress in 1944 when he was setting up the ANC Youth League. Mandela rose through the ranks of the ANCYL and with his right efforts, the ANC was able to build a more mass-based policy, the Program of Action, in 1949. In 1952, he was elected as the National Volunteer-in-Chief of the Defiance Campaign with Maulvi Cachalia as his deputy.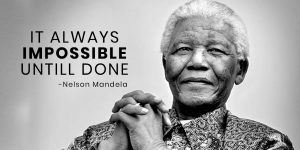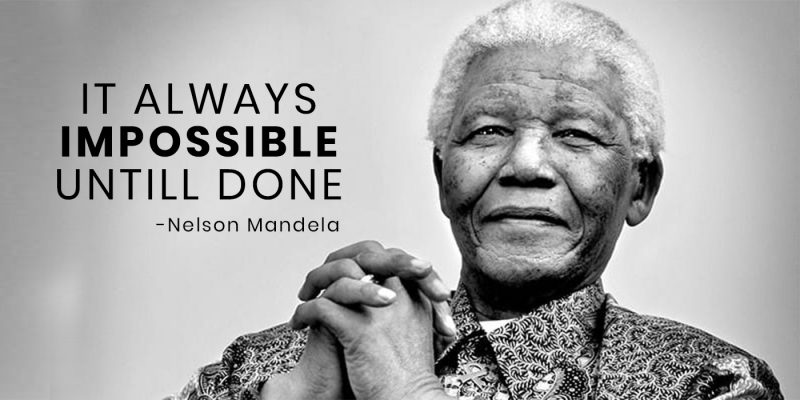 Presidentship
On 10th May 1994, he was inaugurated as South Africa's first democratically elected president. True to his promise, Mandela stepped down in 1999 after one term as president. He after then, continued to work with the Nelson Mandela Children's Fund he set up in 1995. He also established the Nelson Mandela Foundation and the Mandela Rhodes Foundation. Nelson Mandela never wavered his devotion to democracy, equality, and learning. The man never answered racism with racism. His whole life is an inspiration to all who experience oppression and deprivation. 
Nelson Mandela's Long Walk to Freedom
It is the Biography of Nelson Mandela written by South African President Nelson Mandela. It was published in 1994 by Little Brown & Co. The book profiles the early life, coming of age, education, and 27 years in prison. 
In the first part of the autobiography, Nelson describes his upbringing as a child and adolescent in South Africa. He is now being connected to the royal Thembu dynasty. His Childhood name as described is Rolihlahla, who is loose as 'pulling the branch of a tree', or a troublemaker.
Mandela describes his education at a Thembu college called Clarkebury.  Nelson Mandela Biography includes his education at The University of Fort Hare, and his practice of law later on. He then writes, "Democracy meant all men to be heard, and the decision was taken together as a people. The majority rule was a foreign notion. A minority was not to be clashed by a majority.  In the second part of the book, Nelson introduces the political and social aspects of apartheid in South Africa. Influencers of political such as Daniel Francois Malan who implemented the nadir of African freedoms. Mandela joined the African national congress in 1950. In the biography of Nelson Mandela, he describes his organization of Guerilla tactics and underground organizations to battle against apartheid. 
The life of Nelson Mandela was tough but never he quit from his path of truth. In 1961, Nelson was convicted for inciting people to strike and leaving the country without a passport and was sentenced for five-year imprisonment. 
However, after his second trial also known as 'Rivonia Trial', Mandela was shortly thereafter sentenced to life imprisonment for sabotage by Justice Dr. Quartus de Wet. Nelson Mandela describes prison time on Robben Island and Pollsmoor Prison. His 27-year tenure in prison is described hard and is marked by the cruelty of Afrikaner guards, backbreaking labor, and sleeping in minuscule cells which were nearly uninhabitable. 
Mandela does not accuse the warden of James Gregory of fabricating a friendship with his prisoner. Gregory's book Goodbye Bafana discussed Mandela's family life and portraits Gregory as a close personal friend of Mandela. In the life of Nelson Mandela, Gregory's position was to censor the letter delivered to the future president. He discovered the details of Mandela's personal life. Which he then made money from using his book
"Goodbye Bafana". 
Suggested: An Inspiring Journey of APJ Abdul Kalam – The Missile Man of India
In long Walk to Freedom, Mandela remarks of Gregory only that 'I had not known him well, but he knew us because he had been responsible for reviewing our incoming and outgoing mail' Later in his sentence, Nelson Mandela met South African president, Frederik Willem de Klerk. He was released from prison in 1990. Mandela's book doesn't discuss the alleged complicity of de Klerk in the violence of the eighties and nineties. 
Nelson Mandela's biography – Long walk to freedom won the Alan Paton Award in 1995. It has been published in numerous languages, including an Afrikaans translation. 
The Film Adaption of Nelson Madela Biography
Long walk to Freedom has been adapted into a film titled Mandela: Long Walk to Freedom. It has been directed by Justin Chadwick, written by William Nicholson, and is produced by Anant Singh. Mandela personally awarded the film rights to the book to Singh's company some years before 2009. Singh believes the film is based on Mandela's writing. The film was limited released on 29 November 2013 in the US. The film was fully released on Christmas day 2013 in the US. When the film was shown in London for Prince William and his wife, Nelson Mandela's death was announced. 
Conclusion:
Nelson Mandela died at his home in Johannesburg on 5 December 2013. Mandela's story is stirring up and some of his most-frequently quoted words have been drawn from 'Long Walk to Freedom'. Nelson Mandela is one of the great political leaders this world has ever seen.