No matter how old we get, we always have a child within us that is willing to do all the crazy stuff that a child always wants to do. When we were kids, we never felt shy popping up in front of our TV sets and gazing endlessly at our favorite cartoon shows.
But things have changed now. The kids of this generation hardly leave their smartphones as they are busy watching their favorite shows on Netflix, Amazon Prime, etc. Or lingering through their social media handles. Today's kids will never understand that there was no better way than cartoons available to calm down a baby from his crazy avatar.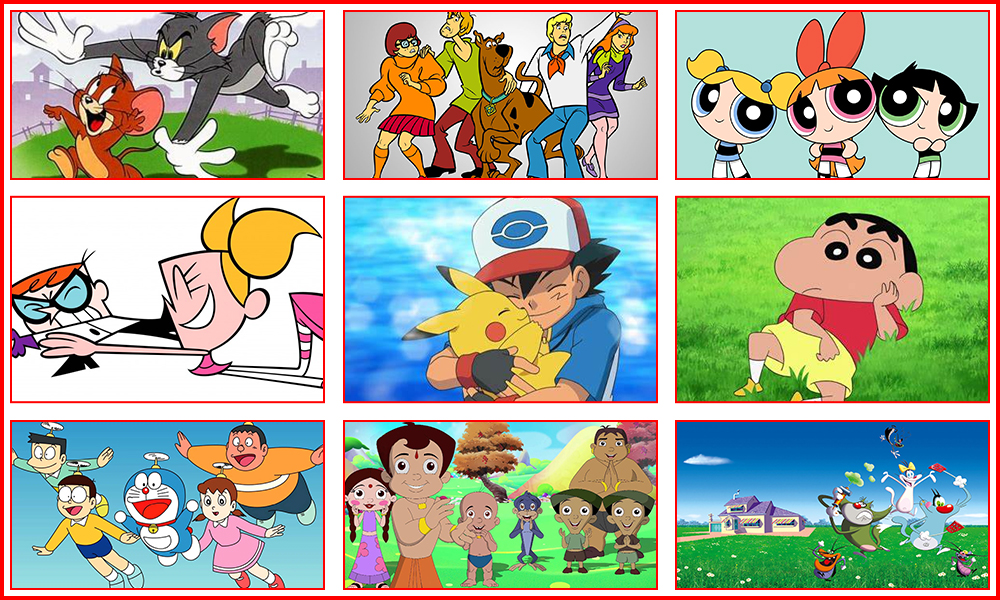 To take you back to a trip down memory lane, we have curated a list of the best cartoon shows watched in India. So without any further ado, let us start with the list and recall some of the finest memories we had as kids. 
Tom and Jerry

 
Does this iconic duo need any introduction? Well, Tom & Jerry show is for the ages, and its popularity increases like the taste of old wine. Calling the Tom and Jerry Show a drug won't be wrong because this show played a vital part in making our childhood memorable.
The story of the show revolves around a cat and mouse who always find a reason to fight with each other. Well, reason or no reason, the duo only wants to fight with each other. Till date, the iconic Tom & Jerry show gets aired on Cartoon Network and Pogo. 
Scooby-Doo

 
We all wished to have a pet like Scooby-Doo in our childhood and a gang like Mystery Incorporated that solved all the mysteries. Scooby, Shaggy, Daphne, Velma, and Fred, famously known as 'Mystery Incorporated," was always up and running to solve some adventurous mysteries in the city.  
The show got introduced in 1969, and like Tim & Jerry, Scooby-Doo got love from people of all ages and generations. If you haven't watched Scooby-Doo yet, you are definitely missing out on one of the finest cartoon creations. 
The Powerpuff Girls 

 
The Powerpuff Girls, despite being off-air for so long in India, still holds prominence in the hearts and minds of many people. The writers of this amazing show were seriously ahead of their time and famously tackled everything from anger management to compassion and even (in one of the greatest Cartoon Network episodes of all time), a wicked parody of the Beatles. 
P.S.- If you still want to watch the old episodes of this show, tune into Cartoon Network around 3 AM.
Dexter's Laboratory

 
Dexter's Laboratory is considered one of the finest writings in cartoon history. The annoying sister 'Dee Dee' of a kid scientist always created problems for Dexter and his innovations, and Dexter was always running away from his Dee Dee. It is one of the most chaotic and thoughtful shows written by the creators of the Powerpuff Girls. 
Pokemon

 
Pokemon is one of the longest-running animated shows in Indian anime television history. The show aired on Cartoon Network and made us believe in an imaginary world of Pokemons. The story revolves around a young buy Ash Ketchum who is a Pokemon trainer and dreams about becoming a Pokemon master one day. 
He always gets into a rift with Team Rocket, and the two end up battling each other with their favorite Pokemon's. Ash's favorite Pokemon is Pikachu, who is always with him. 
Shinchan

 
Shinchan is one of the finest creations of Japanese anime. The show airs on Hungama TV and has gained immense popularity among kids in India. Shinchan is a 5-year old notorious kid who seems to do everything he can to annoy his parents, neighbors, teachers, and loved ones. The best part of the show is Shinchan's pet Shero who always gets annoyed with the former's mischiefs. 
Doraemon

 
Doraemon is another Japanese anime masterpiece that has conquered the hearts of Indian kids. This Japanese manga series gained immense popularity in India after getting dubbed in Hindi. 
Doraemon is a cat that hails from the future and loaded with some futuristic gadgets. He lives with Nobita and his family and saves Nobita from his daily chores and dumb activities by offering him some valuable gadgets. 
Chhota Bheem

 
Chhota Bheem is a popular Hindi anime show created in India. The story revolves around a kid named Bheem who resides in a village in South India, and he loves eating Ladoos. Bheem is famous for his bravery, valor, and intelligence. He is the one who fights against all the bad stuff in his village. 
Oggy and the Cockroaches

 
Currently, Oggy and the Cockroaches is among the top 3 famous anime shows in India. The show gets aired on Cartoon Network, and many movies have been made on this show. The Hindi dubbing of this show attracts more people as the spoof voice of Bollywood stars like Shakti Kapoor, Sunny Deol, and Shahrukh Khan make the show worth a watch.  
Conclusion: 
So that concludes the list of the most popular anime shows in India. From past to present, many anime shows that made a lasting impact on people's minds. Scooby-Doo, Powerpuff Girls, Tom & Jerry made our childhood, whereas, Oggy and the Cockroaches, Doraemon, and Shinchan are making this beautiful and fun this generation. Which is your favorite one from the list? Mention the names in the comment section below as we will be waiting for your response.