Journey Of Jeff Bezos
There would be only a few people who haven't heard about Jeff Bezos. He is an American entrepreneur who is the founder and Chief executive officer at Amazon.com and owner of 'The Washington post'. His successful business ventures have made him one of the richest people in the world.
Many people across the world ask him the journey of becoming the richest man, to which he always replies of a vision to achieve something.
Here, the post will enlighten you about the journey of Jeff Bezos.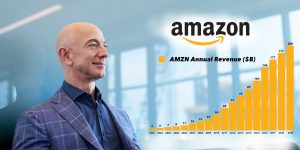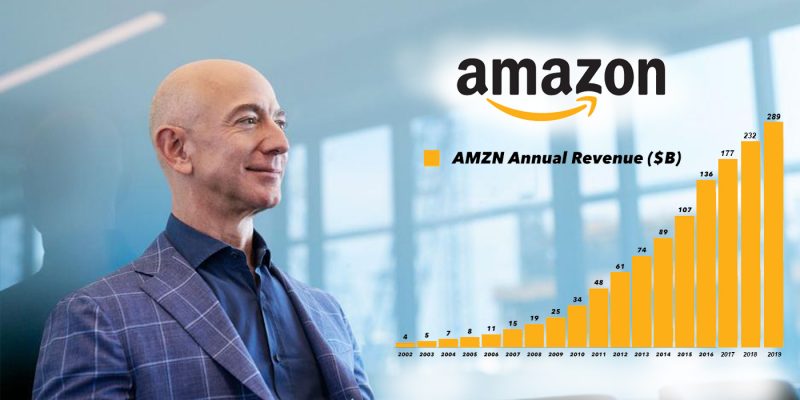 Who is Jeff Bezos? 
Jeff Bezos is the founder and CEO of the eCommerce company Amazon, owner of 'The Washington Post' and founder of the space exploration company blue origin.
He was born in New Mexico in 1964, Bezos had an early love of computers and studied computer science and electrical engineering at Princeton University. After Graduation, he worked on wall street, and in 1990 he became the youngest senior vice president at the investment firm D.E. Shaw.
Four years later, Bezos quit his lucrative job to open amazon.com. At initialization, Bezos launched it as an online bookstore and now that idea is a billion-dollar company, one of the Internet's biggest success stories. In 2013, Jeff Bezos purchased 'The Washington Post', and in 2017 Amazon acquired Whole Foods.
Family Background
Jeff Bezos was born on January 12, 1964, in Albuquerque, New Mexico, to a teenage mother, Jacklyn Gise Jorgensen, and his biological father, Ted Jorgensen.
The Jorgensen were married for only one year. Her mother remarried Mike Bezos, a Cuban immigrant when Jeff was only four years old.
Jeff Bezos Education
Jeff Bezos graduated with the highest distinction from Princeton University in 1986 with a degree in Computer science and electrical engineering.
Bezos always has an interest in how things work, turning his parent's garage into a laboratory and rigging electrical equipment around his house as a kid.
He moved to Miami with his family as a teenager, where he was fascinated by the computers and graduated with great achievements of his high school. While graduating high school he started his first business, the dream institute, an educational summer camp for 4th to 6th-grade students.
Career in Finance
After completing his graduation from Princeton University, Jeff started working at the various firm on wall street. Few of them were Fitel, Bankers Trust, D.E Shaw. Bezos became the youngest vice president of Shaw's firm.
The career of Jeff Bezos was always productive, but still, Bezos was always ready to make a move into the nascent world of eCommerce. In 1994, he left his job and moved to Seattle to focus on his big project. He targeted the untapped potential of the internet and started an online bookstore.
Jeff Bezos Journey to Amazon
Bezos started Amazon on 16th July 1995 and named it after the South American river. He asked his 300 friends to beta test his site. In the next few months, a few employees began developing software for Amazon with Bezos in his garage. No sooner, they expanded their operations into a two-bedroom house equipped with three sun Microstations.
The initial success of the organization was more than expected. Amazon goes on with no press promotion, Amazon.com started selling books across the United States and in 45 foreign countries within 30 days. In the next two months, Sales were reaching $20,000 a week.
After passing two years, amazon.com went public in 1997. The question that whether the company could hold its traditional retailers launching their eCommerce websites. Two years later, the start-up not only kept up, but outgrew competitors, and became an eCommerce leader.
In 1998, Bezos focus on diversifying Amazon's offerings with the sale of CD's and Videos, and later clothes, electronics, toys, and more through retail partnerships with the seller.
Many competitors failed during this time, but Amazon's yearly sales jumped from $510,000 in 1995 to over $17 Billion in 2011.
Bezos' 2018 annual shareholder letter states 'the company surpassed 100 million paid subscribers for Amazon Prime.' By the end of September 2018, Amazon valued at more than $1 Trillion. It was the only second company to ever hit that record just a few weeks after Apple. In 2018, Amazon announced it was raising the minimum wage to $15 per hour. The company has still been criticized for its working conditions and pace.
In 2006, Amazon.com launch the video-on-demand service. Initially, it was known as Amazon unbox on TiVo. It was rebranded as Amazon Instant Video.
The several original programs with the launch of Amazon studios in 2013. The company produced and released its first original feature, Spike Lee's Chi-Raq in 2015.
In 2016, Bezos did a cameo appearance playing an alien in Star Trek Beyond. He is listed as a Starfleet official in the movie credits.
In early 2018, the Seattle Times reported the future goals of the Amazon to consolidate its consumer retail operations to focus on growing areas includes digital entertainment and Alexa.
Suggested: An Inspiring Journey of APJ Abdul Kalam – The Missile Man of India
Amazon Kindle E-reader
Kindle, a handheld digital book reader that allowed users to buy, download, read, and store their book selections. The organization took a step forward in the tablet marketplace with the unveiling of the Kindle Fire in 2011. In December 2013, Jeff Bezos revealed a new experimental initiative by Amazon, called Amazon Prime Air. In the project, drones used to provide delivery services to customers. The first Prime Air delivery took place in Cambridge, England on December 7, 2016.
Conclusion:
Jeff Bezos is among the richest man in the world. He took the right opportunities at the right time and that made him among the top entrepreneurs. The journey of the richest man is a life lesson to learn about.