Saroj Khan's Journey To Success
Saroj Khan, one of the pioneering dance choreographers in the Hindi film industry, passed away today in Mumbai at the age of 71, causing an outpouring of condolences from all walks of life after suffering a heart attack.
The final journey of Saroj Khan– she was admitted to Bandra, Mumbai's Guru Nanak Hospital on June 20 after she complained of breathing and she died of cardiac arrest at 1.52 am on the same day. Saroj Khan (71), whose son Hamid Khan and daughters Hina Khan and Sukyna Khan live.
Saroj Khan's Journey in Bollywood
Looking back at the Bollywood journey of Saroj Khan, we will see Saroj Khan speaking about how she came to India from Pakistan and, finally, how she ended up through Bollywood as a child star. Saroj Khan says, "My name is Saroj Khan and I choreograph songs both on stage and in the film industry. I have the experience where you might call it 67 years since I began my career when I was 3 years old. I'm not going to say my family belongs to some kind of music or there are some musicians in my house, they were just business people and my parents were in Pakistan. We lived there, they were wealthy citizens, but the catastrophe that took place in 1947, as it happens in life, was a partition and my parents came to India as refugees.
What they had with them was just gold, money, and clothing, but someone took our bags and put dirty clothes in the other bag as well, like a movie plot, the bags changed. Yet the disaster struck twice. They arrived in Bombay, I was not born, in Mumbai-1948 I was born.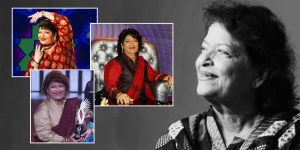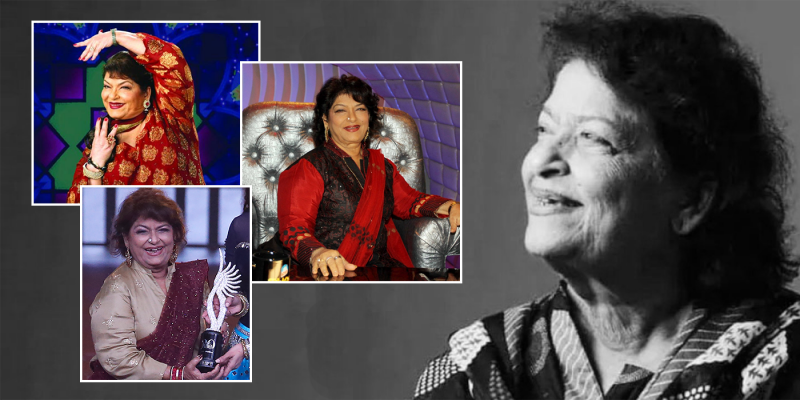 Saroj Khan, going on, shares how the doctor knew her talent as a dancer when she said, "When I was three years old, my mother saw me holding hands in the darkness.
She was second time pregnant and the doctor who worked for her contributed to the entertainment industry. Then my mother took me to the doctor and said I think this mining kid is stupid because she stares at the shadows and the god knows what she's doing with her hands. So the doctor has said she may want to dance.
He played music and I did something like that and the doctor said that this child is fine but only she likes to dance because you are all poor people, why don't you bring her in the film industry, "adding," I'm not going to say that I had an opportunity, I think God gave them this child because God wanted me to support my family and from there my career started as a child star that lasted nine years, until then.
She was affectionately dubbed 'Masterji' by her bevy of admirers, and by offering signature measures to a slew of classic songs enthralled large audiences. The dance master, born in Maharashtra, had a career period of more than 40 years, choreographing more than 2000 albums, many of which are now recalled.
Since a very young age, the craze for dance blossomed in Khan. At the age of three, she started her career as a child artist for the movie 'Nazarana,' and then graced other stages as a background dancer.
She later switched as a professional choreographer as a background dancer to an assistant choreographer. She made her first break with the movie 'Geeta Mera Naam' in 1974, and after that, there was no look back as she choreographed some legendary stars, including Aishwarya Rai, Madhuri Dixit, and Sridevi.
She received wide recognition and applause from Sridevi for her work. In 'Mr. India (1987), and also in Nagina (1986) and Chandni (1989), she choreographed the late actor for songs such as Hawa Hawaii.
Hits by Madhuri Dixit such as Ek Do Teen in 'Tezaab' (1988), Tamma Tamma Loge in 'Thanedaar' (1990), and Dhak Dhak Karne Laga in 'Beta' (1992) further came to attention as a choreographer.
In many television dance reality shows, Saroj Khan also acted as a judge and influenced many young children through the show.
Suggested: Journey Of Jeff Bezos – The Richest Man on Planet
In 2003, she was the recipient of three National Film Awards for her outstanding choreography, released 'Dola Re Dola song (Devdas), in 2006, for all the songs from the Tamil period movie 'Sringaram,' and in 2008 for the film 'Yeh Ishq Haaye' (Jab We Met).
She then went on to get a hat-trick at the Filmfare awards, regularly winning between 1989 and 1991 for three years. She died as a result of a heart arrest at Guru Nanak Hospital ICU where she was admitted on 20 June. Saroj Khan's last rites will be held today at Malvani, in Malad, Mumbai.
Conclusion:
For Bollywood, the year 2020 has been bad. As our iconic masterji Saroj Khan who, in her career span of over four decades, has trained many Bollywood celebrities, passed away due to cardiac arrest in a Mumbai hospital. Owing to respiratory problems, and died from cardiac arrest on 3 July 2020 at 1:52 AM IST. She was 71, and her son Raju Khan and daughters Late Cuckoo Khan & Sukaina Khan survive.