Class Of 83 Movie Review
A 1980 setup in Bombay drives the audience to yet another cops-and-gangsters thriller Bollywood has to offer. Bobby Deol's 'Class of 83' is a mixed bag that focuses on two extremes of society.
Director – Atul Sabharwal
Cast – Bobby Deol, Ninad Mahajani, Anup Soni, Hitesh Bhojraj, Sameer Paranjape, Bhupendra Jadawat
Produced under the banner of Shahrukh Khan's Red Chilies Entertainment, Class of 83 is based on a book written by one of the country's leading crime journalist Hussain Zaidi. The movie is another offering of Bollywood's love affair with Indian law enforcement where they tend to glorify and shame the structure all at once. Bobby Deol has put his best efforts to raise the tempo, but the new Netflix cop drama is a bits and pieces presentation that has failed to live to its own expectations.
An argument could be made that vigilante crime thrillers were all the rage in the 70s and 80s which was unwillingly bestowed on both India and abroad. Hollywood flicks of this genre are praised widely like director Quentin Tarantino's trait of filmmaking where he opts to lend his focus on a Nazi killing spree and the audience is always awestruck with his offerings. But Class of 83 has been moderate in inspiring people despite being partially inspired by true events and characters.
A Brief Plot Of Class Of 83 Movie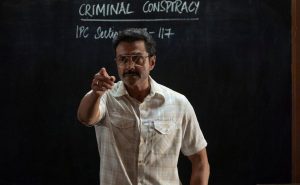 The story focuses on the elimination of the underworld which was booming in Bombay in the 1980s and took a hooligan's face. Many mills in the city were shut down as the young men working were lured into joining local gangs. Along with all this, the nexus between problem politicians who were the backbone of all crimes and the local gangs were making things ever so impossible for the cops to deal with.
The film comes with a back story, wherein, Vijay Singh (Bobby Deol) who has been sentenced to a 'punishment posting' as the dean of the Police Training Centre in Nashik. He handpicks a clutch of five young gens and trains them hard to deliver law with a greater good in a quest to restore order in an already decimated system and fix it from inside.
In 1983, the city's first encounter specialists emerged to pull out the local gangs in Bombay, and the movie looks inspired by real incidents. The movie is also a prime example of how an officer can shrewdly plan and plan his voluptuous moves while being in the system and following all the necessary protocols.
However, the storyline at a certain point of time gets predictable and the narrative looks like reeling in hot waters. As it stands, the storyline appears to be rushing through the motions and looks dispersed in getting from one point to the other. With newbies not impressing much, Bobby Deol has looked desperate throughout to raise the bar of this pale and inelegant offering from Atul Sabharwal.
Talking about other aspects of the movie, music is given by 90s veteran Viju Shah who has been a cult figure of his generation, however, his magic couldn't be spilled here but the background scores have been appreciated. Talking about cinematography, Mario Poljac has done justice with his work. The attention to period detailing has been impeccable.
'Raat Akeli Hai' gave a tough competition
Class of 83 is the second presentation from Netflix India within 2 months in the cop-gangster saga. The first one Raat Akeli Hai starring Nawazuddin Siddiqui has a fierce cop and Radhika Apte as his wife.
The viewers draw comparisons between the Class of 83 and Raat Akeli Hai in terms of the plot, However, unlike Class of 83, Raat Akeli Hai is not inspired by true events, but a death case which is investigated by a small-town cop portrayed by Nawazuddin Siddiqui.
Critics And Viewers Reception 
Having got mixed reception both from viewers and critics, the overall verdict can be stated as below average. The pundits have rated the movie 2.5 out of 5, whereas, IMDb rates the movie 6.2 out of 10. Here are some of the reviews given by the viewers;
Reviewed by a user named sameerlodaya who rated 5/10
"This movie is only for bobby, he acted tremendously well and he looked perfect for the character rest there is nothing in this movie which u haven't seen before the first half-hour was very thrilling then after the move sailed in an ordinary phase ending was pathetic from starting they highlighted on the villain paraskar but when in end he arrived he looked like extras actors performing, just this for bobby"
Reviewed by a user named mani-mishra1304 who rated 6/10
"Nothing new, RGV underworld movies were far better than this. In 2020, they are providing 90s material. Red Chillies come with better projects. I heard a lot about this book but after watching the movie didn't get why it was so hyped."
Reviewed by a user named thakarharshil who rated 5/10
"This movie is based on a novel and has a great story plot. The good direction could lead this to an interesting crime thriller experience but instead of this, it ended up vague with a disruptive plot. No wonder it's released on Netflix. Red chili production does marketing in such a way that it makes hype but never deliver. Betaal is a prime example of a great story with a poor narrative. Stops making Netflix a dumping station for a below-average movie."
Suggested: Khuda Haafiz Review – All You Need To Know About Vidyut Jammwal's Latest Flick
My Verdict
Well, the storyline might not synchronize much with the characters, but if you are a Bobby Deol fan, there is no harm in giving this movie worth a watch. For the fans who have been eluded of Bobby's screen presence are up for a treat.
Conclusion:
Here is the full review and verdict of Bobby Deol's starter Class of 83. This cop-gangster gang saga is a good one for action-crime thriller lovers. I have come up with honest opinions and how the fans have pinned the film. Class of 83 is streaming on Netflix India.