India's rich culture and heritage have always made this country a tourist attraction. Apart from culture and heritage, India's tradition, medieval history, diversity, and landscapes always make this country a site to behold.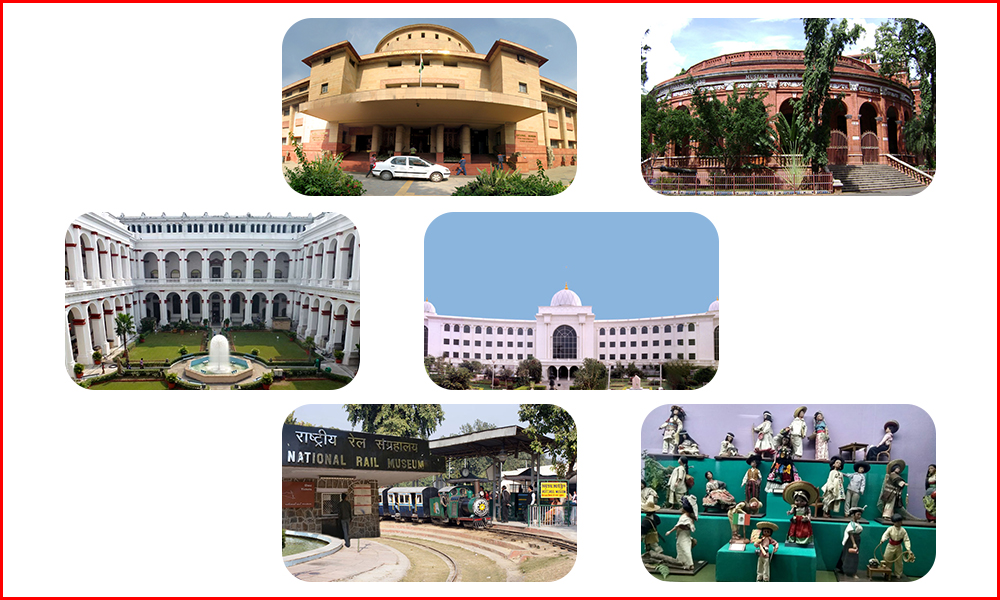 India's heavy drapery of cultural heritage goes beyond 5000 years. The country has a vibrant range of museums that depicts the cultural heritage of the country. Almost every prominent destination of the country holds a collection of museums that speaks volumes for the country's past. So, we have curated a list of some of the best museums you should be visiting if you love history. So, without any further ado, let us start with the list.
The National Museum, Delhi
Constructed in 1949, the National Museum in Delhi is one of the best places to visit in the country's capital. This museum will give you a peculiar understanding of Indian Railways, antique jewelry, artifacts, ancient paintings, decorative items, and much more.
There is a separate Buddhism section where you can see Buddhist ruins, articles, statues, stupa remains, etc. You can also found the vestige of Gautam Buddha, which is something unique and appealing.
Madras Government Museum, Chennai
The Madras Government Museum got built in the 19th Century in Chennai. The museum is famous for numerous artifacts from various fields like Botany, Geology, Zoology, and Anthropology.
The museum abodes separate galleries for the different empires that held the state in ancient times. These galleries have artifacts, books, paintings that belong to Vijayanagara, Chaulkya, Chola, and other states and provinces. Also, you can find a large library that has a huge collection of books and dailies to date.
Indian Museum, Kolkata
The Indian Museum in Kolkata got constructed in the 19th century and comprises a unique gallery of skeletons, paintings, ornaments, scientific works, armors, creative artworks, etc. The Indian Museum is considered one of the oldest museums in the world. Many tourists who come to Kolkata definitely visit this place.
You can also find collections referring to archaeology, geology, art, and economic beauty. The people who love to walk into the rich past of the country should visit this enticing museum.
Salar Jung Museum, Hyderabad
The Salar Jung Museum is located in Hyderabad and is dedicated to art lovers. Here, you can find a large collection of paintings, metallic works, carvings, textile works, and others. The artifacts found here are not only from India but different countries of the world. These countries include China, North America, Egypt, Burma, Nepal, etc.
There are over 1.1 million display articles in the museum spanning across 2 floors and 38 galleries. Some of the most notable things to find in this museum are- 19th century Veiled Rebecca Statue, famous daggers of Mughal emperors, wood painting, porcelain work of the 2nd century, Margaretta in the mirror, clock collection, Quran collection, etc.
National Rail Museum, Delhi
National Rail Museum is a paradise for train lovers. Here, you can find around 100 life-sized Indian trains of both ancient and modern times. The museum is spread across 10 acres of land and is very much a sight to behold.
You can enjoy a toy train ride that will take you through to multiple exhibits and galleries. These galleries consist of historic antiques, photographs, train decors, signaling tools, blueprints, and essential parts. Patiala State Monorail of 1907, Fairy Queen, 1914 Fire Engine, Electric Locomotive of 1928, and Saloon of Yesteryear Kings- are among the main attractions of the museum.
Shankar's International Doll Museum, Delhi
Shankar's Doll Museum is one of a kind. It is one such museum that attracts both children and adults. You can find an abundance of dolls from different parts of the world including, Australia, New Zealand, Africa, the USA, and others.
The best part about this museum is, there are separate galleries for dolls from commonwealth countries, local (from India), middle-east countries, and other independent countries. The Indian dolls hold traditional attire representing each state of the country.
ALSO READ: The Most Amazing Places To Visit In Kerala- "God's Own Country"
Time to wrap up: India is world heritage site. It is a country that comprises almost everything. From nature and scenic beauty to the preserved one, India offers a lot to its tourist. The museums mentioned in this post are only a few of the bulk of museums present in India. So, if you are a lover of ancient ideologies and culture, you should be considering this list and visit these museums.