Are you a wine lover and looking for inexpensive yet tasty wine brands? Then you have surely come to the right place. There are plenty of low-cost wines available out there, and they certainly don't require quality for quantity.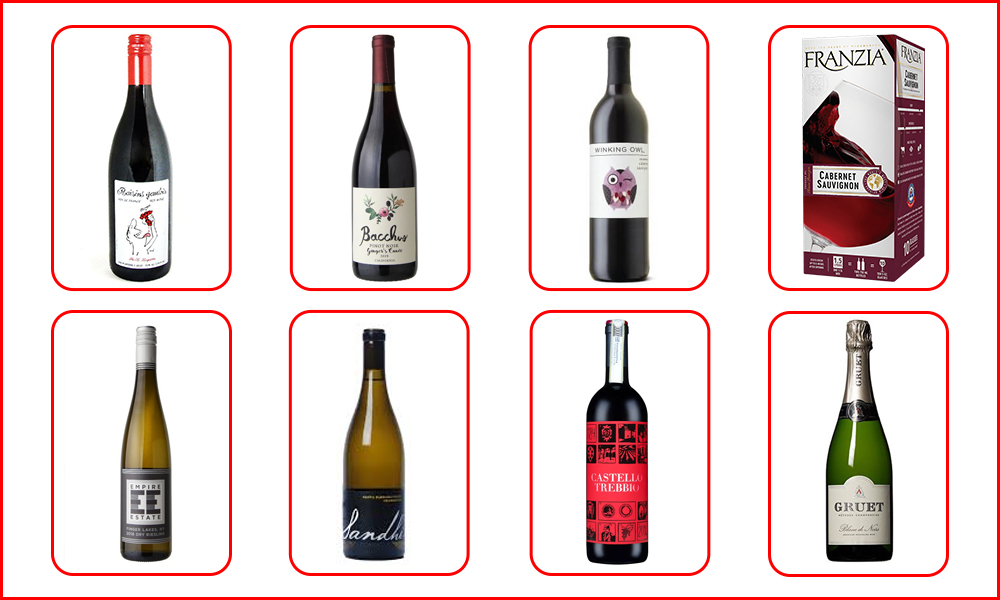 Wines are generally made from responsibly farmed fruits and have little manipulation in the cellar. It won't be a case ever that a wine manufacturer will label their win reading, "This wine is absolutely awful in taste and will give you those killer hangovers the next morning." Getting an inexpensive wine easily could be a demanding task. Therefore, to help you out, I have compiled some of the low-cost wines every wine lover should try at least once. So without any further ado, let us start with the compilation. 
Marcel Lapierre 'Raisin Gaulois'

The first name on the list is Marcel Lapierre 'Raisin Gaulois.' This wine is produced by one of Beaujolias' most highly rated winemaking families. It is organic, pretty well prepared, and easy to drink. While drinking it, you will get a blended taste of tart cherries, white pepper, and juicy red fruit. To get the best taste out of Raisin Gaulois, serve it slightly chilled with cheese, charcuterie, and Taco Tuesday. This wine costs you around $20. 
Bacchus 'Ginger Cuvee' Pinot Noir

The quality bottle of California Pinot Noir costs somewhere between $15-20. Bacchus 'Ginger Cuvee' Pinot comes under the category of quality California Pinot Noir, founded by David Gordon, the wine director at Tribeca Grill in New York. The zesty taste of this wine gives you the flavors of candied red fruit, cedar spice, and potting soil. 
Winking Owl Cabernet Sauvignon

The wines manufactured by Winking Owl can be found exclusively by Aldi. They have been offering tasty wines to their customers for a long time and have made a name for themselves. If you like the slightly dry sweet flavor of cabernet sauvignon, this brand is what you should be trying. The price of one bottle of Winking Owl costs around $2.99 a bottle. 
Franzia

 Cabernet Sauvignon

Franzia is a sweet boxed wine and a very decent cab. Many people make the argument that boxed wine is the way to move forward because the inner bag keeps the air out that is said to taint wine and because much of the packaging is recyclable. Another most interesting thing about Franzia is, it is environment friendly. 
Gruet Blanc De Noirs NV

If your budget doesn't allow you to have a bottle of Champagne, Gruet Blanc De Noirs is definitely the right substitute. It is one of the best American sparkling wines that cost below $20 a bottle. Using the same technique as Champagne, this wine spends two years on lees gaining complexity, delicious aromas, and flavors with a creamy mouthfeel taste. It tastes and sparkles like Champagne, and you can afford to drink it on any day. 
Empire Estate Dry Riesling

Riesling is one of the most popular grapes used for the preparation of wines. It generally tastes sweet, but not all Riesling wines are sweet. This bottle from the Empire Estate is perfect for easing into the dry expression of the grape. This wine is produced in the New York's Finger Lakes region and generates flavors of pithy citrus, white blossoms, lime leaf, green apple skin, and wet rocks. This wine costs below $20 and is enjoyed ideally alongside a variety of foods from fresh seafood to salads. 
Sandhi Chardonnay

When it comes to affordable or reasonable Chardonnay, the choices are endless. However, finding a high-quality bottle that has been drooling in the subpar options is vital. Sandhi got founded by Sashi Moorman and Raj Parr. These two were among the most iconic winemakers of Santa Barbara Country. Their old world-inspired chardonnay is made up of organically farmed fruit and local yeasts. They have used yellow stone fruits, gunflint, green apple skin, and sweet spice to dominate the well-balanced palate of this wine.  
Castello Del Trebbio Chianti Superiore Docg

Castello Del Trebbio is another joyful wine to drink. It is a blend of old-school indigenous grapes from the region and pretty well balanced. While sipping this wine, you will get cherry and cranberry bursts on the nose, along with the floral aroma of rose petals. The juicy flavor of this wine makes you fall for it. This wine costs below $20 and can fit into your everyday lineup for sure. 

Also Read: 10 Best Outdoor And Adventurous Sports
Time to wrap up: With that, we conclude our list of some of the most inexpensive yet tasty wines that are the choice of ardent wine drinkers. Wines are generally expensive, but the names mentioned above are not only low on cost but as tasty as the exotic and expensive wines. So, if you are low on budget but still craving quality wine, do consider this list.