The Journey Of APJ Abdul Kalam
India is said to be one of those countries which have given the most fearsome and intelligent individuals to the world, and if we talk about "intelligent" then the Journey of APJ Abdul Kalam should be in the conversation no matter what.
Avul Pakir Jainulabdeen Abdul Kalam (15th October, 1931 – 27th July 2015) was the most known Indian Aerospace scientist and politician. He served as the 11th President of India from 2002 to 2007 which made him one of the most decorated individuals in India. Abdul Kalam was awarded Padma Bhushan, Padma Vibhushan, and Bharat Ratna which are said to be the highest civilian honor one can ever achieve in India. He was born, raised, and completed his studies in Rameshwaram, Tamil Nadu.
You won't believe it, but he started out the journey of APJ Abdul Kalam as a newspaper distributor. We had no idea that soon he will become the President of our country. To be honest, he was a perfect example of making the best out of your everyday life and he did that till the last breath he took.
His death is said to be the most crucial loss to India. According to the hospital reports, we can do find out that he collapsed while delivering a lecture at the Indian Institute of Management in Shillong. According to the doctors he suffered from cardiac arrest.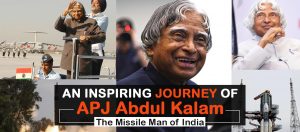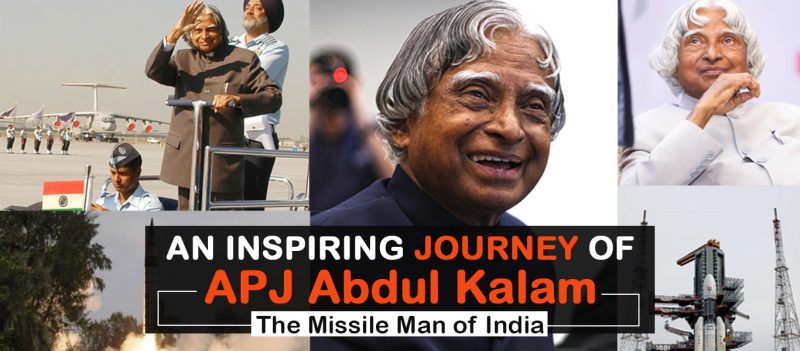 Dr Abdul Kalam was a determined individual who started working at an early age just to contribute to his family income. He was brought up in a multi-religious society but they had a progressive outlook. He overcame all possible odds and did his best to pursue graduation in physics. After that, he pursued aerospace engineering on a scholarship which was quite an achievement in itself.
In 1960 he became a crucial part of the Aeronautical Development Establishment for Defence Research and Development Organisation (DRDO). Dr Abdul Kalam made Indian Defence System the most competitive one in the world. The bottom line is, we owe it all to Dr. Kalam.
9 years later he got transferred to the Indian Space Research Organisation (ISRO) which is said to be the biggest achievement of his life.
Achievements In The Journey Of APJ Abdul Kalam
He played a crucial role in the Satellite Launching Vehicle project which helped India to stay ahead of other international space programs. He was the Project Director who developed India's first indigenous Satellite Launch Vehicle (SLV-III) which successfully deployed the Rohini satellite in the near Earth orbit in July 1980. This project made India an exclusive member of the international space club. Like that wasn't enough, even developed indigenous guided missiles are the DRDO which led to the birth of AGNI and PRITHVI which are known to be the tactical surface to surface missiles.
He also played a major role in the Pokhran 2 nuclear tests which made India a nuclear weapon country. These tests were not appreciated at all, the United States along with other countries came out in unity to oppose these tests. They had a view that India shouldn't be a nuclear state no matter what. But, he and his team overlooked all these statements and ran with the program which turned out to be a great success.
He visited NASA's Langley Research Centre in Hampton, Virginia; Goddard Space Flight Centre in Greenbelt, Maryland; and Wallops Flight Facility in 1963. Between the years 1970 to 1990, Dr. Kalam developed the polar satellite launch vehicle which proves itself to be a successful mission.
What made him the most impactful person of India is the time when both the ruling party, Bhartiya Janata Party and the opposition party, Congress joined forces to elect him as the 11th President of India in 2002. After serving a presidential tenure of 5 years, he returned to his seven life which was all about education and public services. He has written a handful of books and documentaries, the best ones are Wings of Fire and Ignited Mind.
Suggested: Journey of Narendra Modi – The Prime Minister of India
Dr. Abdul Kalam was invited to witness the country's first nuclear test which was smiling Buddha as the representative of TBRL even though he had no participation in that mission whatsoever. In the decade of 1970s, Dr. Kalam came out as a director of 2 most influential projects that India had witnessed till date i.e. Project Devil and Project Valiant. These projects were dedicated to the development of ballistic missiles from the technology which was used in the successful SLV program. This particular project was disapproved by the Union cabinet. But considering the fact that this project could be a major breakthrough in Indian history, the Prime Minister of that time, Indira Gandhi allotted secret funds for these projects through her discretionary powers.
Even though this project was completely denied by the union cabinet, Dr Kalam did his best to convince the cabinet to conceal the true nature of these classified aerospace missions. Later, Dr Kalam along with doctor V S Arunachalam joined hands on a proposal to the Defence Minister R. Venkataraman for simultaneous development of various missiles in one go.
R.Venkataram allotted a budget of ₹3.8 billion for the mission which was named The Integrated Guided Missile Development Programme (IGMDP). You also appointed Dr Abdul Kalam as the chief executive of this program.
The whole point of describing Dr. APJ Abdul Kalam's journey was to let others know that the kind of Defence India has these days, wouldn't be possible without Dr. APJ Abdul Kalam.