Damages In States By Amphan Cyclone
West Bengal Cyclone Amphan Updates: The Amphan cyclone has affected states and killed 72 people and devastated Kolkata and other areas of West Bengal. It destroyed thousands of houses and swamped the state's low-lying neighborhoods. Cyclone Amphan has reported 72 deaths thus far. As Prime Minister Narendra Modi to come and visit areas affected by Cyclone Amphan, said West Bengal CM Mamata Banerjee. Tomorrow in Odisha, Bengal, and Prime Minister Narendra Modi will conduct an aerial assessment of the damage done.
In a similar incident, a 13-year-old girl died in an adjoining Howrah. Officials said a mother and her seven-year-old son were killed in Kolkata's Regent Park area after a tree fell over them. An individual had been killed in Kolkata after being struck during the storm by a flying object.
Officials have said it's too early to predict a toll on lives or economic damage because the hardest-hit areas have not yet been available. The cyclone hit West Bengal's Digha coast at 14:30 pm on Wednesday with heavy rain and winds with speeds of up to 190 kmph. West Bengal Chief Minister Mamata Banerjee said Amphan had "a greater effect than coronavirus"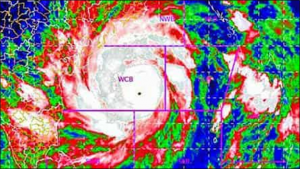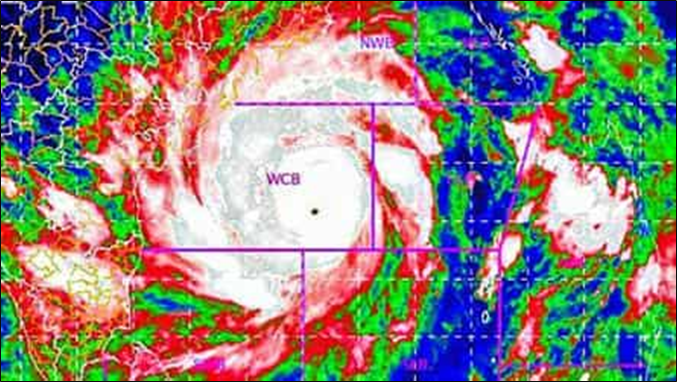 Meanwhile, IMD said today that Cyclone Amphan pushed north-northeast at a pace of 27 km / h over the past 6 hours, further strengthened into a cyclonic storm, and lay centered over Bangladesh, approximately 270 km north-northeast of Kolkata.
The Indian city Kolkata was left destroyed by the worst cyclone that has seen in 100 years that swept through India and Bangladesh on Wednesday and killed 84 people.
Kolkata, home to nearly 15 million inhabitants, suffered Cyclone Amphan's impact, which tore roofs of homes, crushed windows, pulled down trees and pylons, and upturned vehicles.
Many of the deaths are caused by electrocution or falling trees. Millions of people were left without electricity and telecommunications, and some regions lacked drinking water.
Suggested: 10 Problems Indian Companies Will Face Post Lockdown
Mamata Banerjee, the West Bengal's chief minister, of which Kolkata is the capital, said the damage was like "nothing I've seen in my life" and two city districts were "completely devastated. We had to rebuild those districts from scratch.
She said: "State was destroyed area after area. Today I have witnessed a situation like that of war.
Banerjee acknowledged that in the sense of the coronavirus pandemic, the outbreak was especially devastating, with people being forced to prioritize finding refuge over attempts to stem the spread of the virus.
We are facing three crises: the coronavirus, the thousands of returned refugees, and now the cyclone," she said.
Kalipada Haldar, whose shack was demolished by Amphan made of bamboo and plastic sheets, said he had recently lost his work in a cardboard factory when it closed down as a result of Covid-19 lockdown action.
Somehow, with the limited amount of rations I get from the government, I controlled my children. Since the plant was closed I was still in poverty. The cyclone has now ruined my house and multiplied my miseries, "he added.
Haldar said that he would need at least 15,000 rupees (about £160) to repair his house, and he was struggling to raise the capital without any work. Classified as a Category 3 hurricane, the cyclone caused storm surges and waves five meters high and damage in West Bengal and Odisha Indian states as well as Bangladesh's coastal areas.
Searches for survivors in the rubble began on Thursday and West Bengal rescue teams said they had not yet entered the worst-hit areas. Selima Khatun, living in Dhoni village in one of West Bengal's worst-hit districts, North 24 Paraganas, said Amphan had demolished more than 80 percent of the mud-and-bamboo houses in her area.
Damages Done By Amphan Cyclone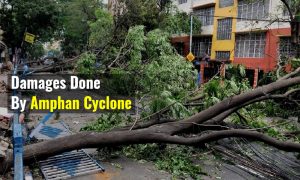 An officer from a control room set up in Kolkata to track the damages done by Amphan cyclone said the state government had been in the dark about the magnitude of the damage with communications disrupted.
"Every communicating medium went defective after Amphan's cyclone. Most of the areas don't have power. Since yesterday we've lost contact with the places. We have no information on those cut-off areas near Sundarbans and other coastal areas where there are hundreds of villages, "the officer said.
The displacement of 3 million people from their homes – Bangladesh's 2.4 million and India's more than 500,000 – appeared to avert higher losses.
India's Prime Minister, Narendra Modi, pledged in a series of tweets that all required support will be provided to aid those who are impacted by Amphan cyclone. "Pray about the welfare of the state's people. There's continuing initiative to maintain normalcy, "Modi said.
Hundreds of thousands have been left homeless in the area after the storm swept away their frail shacks and temporary mud houses. There are concerns that the area could now become a hotbed for coronavirus, with millions housed in shelters. Bangladesh's UN office estimated 10 million people were affected, and 500,000 people may have lost their homes.
Mostak Hussain, Bangladesh's humanitarian director for Save the Children, said: "It was a strong storm even on Bangladesh's levels. We've got the news that for their own health, more than 5 million residents have been isolated from the energy grid as 150kph winds crashed through power lines, damaging houses and rooting trees. In some of the worst-affected areas, there was a tidal wave of almost three meters, forcing rivers to flood and submerging low-lying villages and crops.
Conclusion:
The storm on Tuesday had weakened from a super cyclone to an extremely severe cyclonic storm and triggered heavy winds and rain in parts of Odisha and Bengal. This is the second pre-monsoon cyclone to strike India in two years and has been forecast to be one of the strongest storms in decades over the Bay of Bengal.