Goa may be the smallest state by area and the fourth smallest by population, but it is one of the most beautiful places to visit in India. The current unfamiliar situation in the country has taken the wind out of the sails of the travelers as they are waiting to explore places once things get back to normal, and Goa must be there on their bucket list.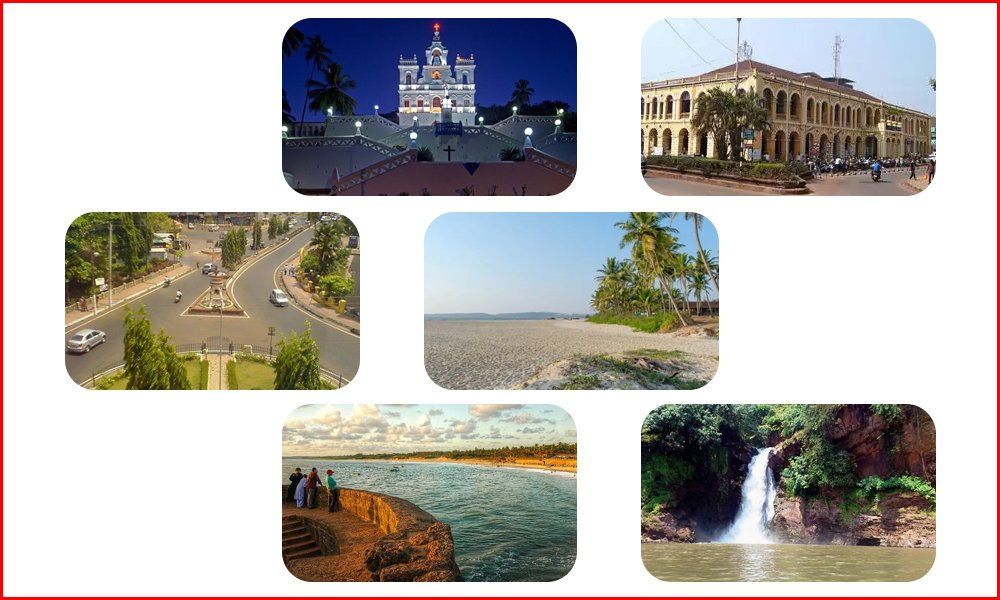 When you hear the Goa, sumptuous beaches with colorful beach shacks, flea markets, wild parties, exquisite seafood, and whatnot.- These things make Goa the perfect vacay destination and provoke people to pay a visit at least once. Today, in this post, we have compiled a list of some of the favored places where you can experience Goa at its best. So, without any further ado, let us get along with the list.
Panaji, South Goa
The capital city of Goa is perhaps the best destination to start the list. Panaji takes you to incredible sightseeing that ranges from taking a heritage walk-in Fontainhas- the Latin quarters to spending a quality day at the Miramar beach. You can experience a promising time at Panaji.
The city has something to offer for bird lovers also as they can visit Dr. Salim Ali Bird Sanctuary, which is located 7kms from the city. Here, you can find migratory birds as well as common and uncommon species of marsh-dwelling birds. Some other notable places to visit in Panaji are,
Church of Our Lady of the Immaculate Conception
Kala Academy
Divar Island
Shanta Durga Temple
Divar Island
Fontainhas
Resig Magos Fort
Margo- The Cultural capital of Goa
Margo is another unmissable place in Goa. It is the cultural capital of the city, and you will realize this fact after visiting it. The municipal garden, the Holy Spirit Church, House of Seven Gables, and Damodar Temple are some of the most famous points to visit for tourists.
There's a special market in the outskirts where you can explore the various species of dry fish. Margao Curry is interestingly famous not only in Goa but is exported to Portugal and elsewhere. Some popular things to see in Margao are,
House of Seven Gables
Damodar Temple
Pandava Caves
Margao Market
Zalor Beach
Municipal Garden
Monte Hill
Sri Chandranath
Mapusa
There are various reasons to visit Mapusa while visiting Goa, and especially the Mapusa Friday market. The market held every Friday takes you across multiple stalls selling homemade sausages, vegetables, chilies, cashews, fish with marsala ready to cook, Goan spices, and whatnot. Other alluring and notable things to see in Mapusa are,
Church of Lady of Miracles
Municipal Building for its supreme architecture
Cansaulim Church
Maruti Temple
St Jerome Church
Bodgeshwar Temple
Vasco da Gama
The city named after the Portuguese explorer Vasco da Gama is renowned for its mesmerizing beaches. If you schedule a plan to visit Goa and fond of exotic beaches, Vasco da Gama is one of the best places to be.
There are many beaches at Vasco da Gama & each of them have their own significance. Cansaulim Beach is known for watching the sunset and Hollant for a perfect ride with your friends. The best time to visit here is March because you can attend the Shingo festival that is marked by colorful parades and street dances. Other prominent places to visit in Vasco da Gama are,
Arossim Beach
Bogmalo Beach
Velsao Beach
Mormugao Fort
Kesarval Waterfall
St Andrew's Church
Sahakari Spice Farm
Naval Aviation Museum
Three Kings Church
Shri Ramnath Temple
Candolim- A heavenly relaxing place
Candolim attracts tourists for its Beach, known as Candolim Beach. The best part about Candolim Beach is it is very silent and calm, and only the wind will be whispering in your ears.
If you are a lover of soothing nature and the reticent beaches, Candolim won't disappoint you a bit. Here you can get yourself baked in the sun for a perfect sunbath, admire the sunset and take a dip to enjoy parasailing. Other things to see here include,
The red and yellow water during sunrise and sunset, respectively.
Our Lady of Hope Church
Sanquelim- Perfect for nature and heritage
Sanquelim is a town that has made its way into the list of the popular tourist attractions in Goa for its Harvalem Caves, Waterfalls, and Rudreshwar Temple. The Harvalem Caves are a set of caves named after the five Pandavas of Mahabharata, and you can cover all these three places in a single trip only.
Harvalem caves were unearthed into the Laterite Hill and comprise two leading caves that include a residential chamber. 1 km from here is the Harvalem Waterfall which attains its fullest glory during monsoon, and the eminent Rudreshwar Temple is located close to the waterfall.
Also Read: How to treat COVID-19 At Home
Time to wrap up: So that concludes our list of some of the most mesmerizing places to visit in Goa. If you are making plans to visit Goa once the COVID-19 situation gets better, do not forget to visit the places mentioned in this list. Which particular destination from the list you wish to go to first? Mention the name below in the comment section.