Chinese Apps Banned by India
The IT ministry of India bans 59 Chinese apps including TikTok, Shareit, UC Browser, Likee, WeChat, and Bigo Live. The ministry declared that they were "detrimental to India's sovereignty and independence, Indian safety, national security, and public order."
The step came in the backdrop of a continuing stand-off with Chinese troops along the Line of Actual control at Ladakh. There has been growing agitation and retaliation by Indian authorities against Chinese applications. This represents the biggest sweep against Chinese technology firms.
This is not the first time India has banned the app. originally, for encouraging adult content and privacy issues, the TikTok app was banned, but in a few days, it was published on the Google play store and app store. The government is yet to announce whether, next time, it wants to enforce the ban.
What Will Be The Impact of the ban on Chinese apps?
The government of India has banned Chinese Apps alongside TikTok, including some of the common ones such as Shareit, UC Client, Hel, Likee, Cam Scanner, Weibo, Xender, We Speak, Club Factory, Vmate, Mi Video Call-Xiaomi, Mi Party, Bigo Live, among others.
In an official press release banning these Chinese applications, the Ministry of Information Technology said, "Invoking its authority under section 69A of the Information Technology Act read with the related provisions of the 2009 Rules on Information Technology (Procedure and Protections for Blocking Access to Information by Public) and having regard to the evolving existence of risks, it agreed to block 59 applications.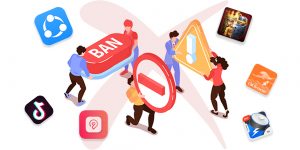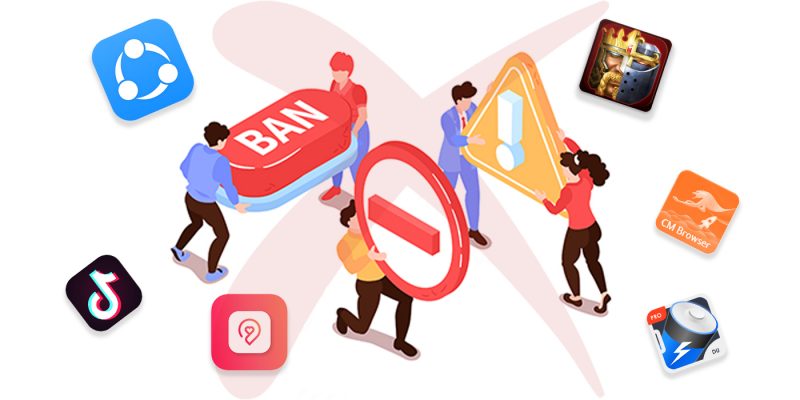 This also added that "after receiving recent reliable feedback that these applications pose a danger to India's sovereignty and independence, the Government of India has agreed to disallow the usage of such software, including on both mobile and non-mobile devices available on the Internet. The move would safeguard the rights of Smartphones and internet consumers crores in India. This decision is a targeted move to assure Indian cyberspace security and sovereignty.
Google Play Store and Apple App store have many Indian short video apps available including Chingaria, Bolo Indya, Roposo, Mitron, among others. Commenting on banning the TikTok app in India Sumit Ghosh, co-founder, and Chief Business Officer, Chingari App said, "This is a very positive move taken by the Indian Govt and the Indian IT Ministry, Tik Tok has been spying on users for a very long time and sending the data back to China. We are pleased to have finally taken this step. I thank the sir Narendra Modi and I congratulate him. So we promise that we would like to invite all TikTok users to come and try our Chingari, which is an app designed for the enthusiastic Indians that is 100 percent developed in India.
Investors of Indian social media fear that the ban on Chinese apps would push down the competition. "The threat to productivity is going to fall. Yet the expert innovation of Chinese software inspires a lot of apps in India. Eventually, the creativity of the industry should slow down," said Deepak Gupta, WEH Ventures' founding partner, who has invested in Indian video blogging site Trell.
Full list of Chinese apps banned in India:
TikTok
Shareit
Kwai
UC Browser
Baidu map
Shein
Clash of Kings
DU battery saver
Helo
Likee
YouCam makeup
Mi Community
CM Browers
Virus Cleaner
APUS Browser
ROMWE
Club Factory
Newsdog
Beutry Plus
WeChat
UC News
QQ Mail
Weibo
Xender
QQ Music
QQ Newsfeed
Bigo Live
SelfieCity
Mail Master
Parallel Space
Mi Video Call – Xiaomi
WeSync
ES File Explorer
Viva Video – QU Video Inc
Meitu
Vigo Video
New Video Status
DU Recorder
Vault- Hide
Cache Cleaner DU App studio
DU Cleaner
DU Browser
Hago Play With New Friends
Cam Scanner
Clean Master – Cheetah Mobile
Wonder Camera
Photo Wonder
QQ Player
We Meet
Sweet Selfie
Baidu Translate
Vmate
QQ International
QQ Security Center
QQ Launcher
U Video
V fly Status Video
Mobile Legends
DU Privacy
Commenting on the move Vivek Chandy, J Sagar Associates' Joint Managing Partner said, "Accessing and saving and accessing data from Indian users through some of these applications has been a problem for some time. While the security of the data may be the ostensible justification for this move, the effect will continue to be seen on the businesses involved. In addition to this move, the government will also look to improve the laws on data privacy and security in India. Analysts said the move would affect apps in China.
Suggested: Top 10 Dating Apps In The World (2020)
"It moves towards huge financial harm from a logistical point of view, as these applications were dependent on Indian markets. It is sound from a legal viewpoint, as grounds such as national security are difficult to contest in a court of law, "said Santosh Pai, Link Legal's partner, who monitors Chinese investment in the region. "If that is going to be the existing state of affairs, we need to see whether Indian apps are going to fulfil the requirement or whether American apps are stealing market share."
Conclusion:
Throughout the case of TikTok and some of the other apps, inquiries found that the camera microphone and complete network connectivity were designed to preclude the Indian authorities from checking any device use or surveillance.