India is a country full of surprises. Every now and then, the country fascinates people worldwide with its historical stories and divine culture. India carves one of the oldest histories that reign way back in ADs and BCs, and therefore, you could witness abandoned forts, palaces, mysterious places in the country.
India's rich history and culture has provoked many historians and archaeologists to visit the country and discover some monumental things. The Gupta dynasty, Harrapan dynasty, Mohen-jo-Daro, etc. are the prime examples of Indian diverse history and mysteries that testify that India is Incredible.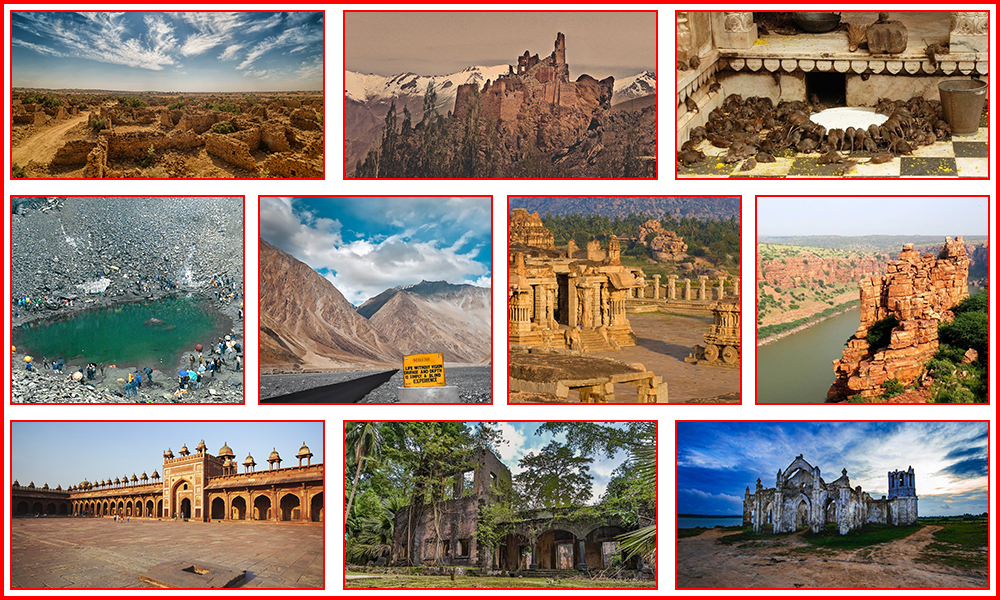 In this post, we will be talking about the mysterious and uncanny places in India that are either abandoned or have lost their essence with time. So without any further ado, let us crawl back into history.
Kuldhara, Rajasthan
The Kuldhara village in Rajasthan is one of the most mysterious places in Rajasthan. Kuldhara narrates so many stories that keep everyone glued.
It is said that 300 years ago, a king named Salim Singh wanted to marry the daughter of the Mukhya of the village. He had an evil eye on her and used to threatened her and the villagers. With villagers being tortured every now and then by the King, they decided to vacate the place and gave a curse to Kuldhara that no one will ever settle here. Therefore, to date, the village remains abandoned.
Chiktan, Ladakh
When someone talks about Ladakh, we only imagine awe-spiring visuals in our minds. The scenic beauty of Ladakh has always been eccentric, but there is an abandoned fort in the beautiful place that narrates its dreadful story.
It is believed that the Chiktan Razi Khar castle was so beautiful that the King of this castle wished to cut off the architect's hand, Baltistan, Shingkhan Mandan. But, he could not because of his wife's joyousness to the architect. And it is a spookily beautiful place. Today, the castle is nothing but an abandoned place as its building is half-broken now.
The Rat Temple
A temple where Rat's get worshiped! Sounds strange, isn't it? But yes, you read it right. There is one Temple that is 30 km away from Bikaner, Rajasthan, named Karni Mata Temple. Karni Mata is the incarnation of Goddess Durga, and this Temple is home to over 25,000 rats.
The story behind these rats is that it is believed, Goddess Karni Mata turned a troop of soldiers into rats when they abandoned a battle and fled for their lives. Since then, these rats are considered sacred by the pilgrims. The majority of these rats are black, and if one spots a white Rat, then that person could consider himself very lucky.- This is because the white rats are considered as the manifestation of Karni Mata herself.
The estranged Skeleton Lake
Another spooky story revolves around Roopkund in Uttarakhand. Roopkund is a high-altitude glacier lake that lies in the lap of Trishul massif. It is known for the mysterious human skeletons found at the edge of the lake.
The study behind these estranged skeletons revealed a common cause of death and heavy blows on the head caused by the big rocks falling from above. The research also stated that the victims were caught in a sudden hailstorm that took many lives.
The Magnetic Hill, Ladakh
Magnetic Hill or Gravity Hill is situated near Leh in Ladakh. The scenic place gives a layout of the area, and the slopes surrounding it creates a beautiful optical illusion that the downhill road is uphill. The illusion is so strong that cars on the hill appear to roll "uphill" defying gravity when they are actually rolling down.
Vijayanagara town, Karnataka
Vijay means Victory, and Vijaynagar means the town of victory. It was a small town located in Karnataka and was the capital of India in the 14th century. Vijayanagara was blossoming between the 14th and 16th centuries and still remains the center of attraction for historians and archaeologists, courtesy of its Sacred sculptures, temples, monuments, and palace.
Gandikota, Andhra Pradesh
Gandikota is also known as the Grand Canyon Of India. It is one of the loneliest places to be in India. As of now, this place has not been given a world-class heritage status as of yet. However, the government is looking forward to doing so.
Fatehpur Sikri, Agra
Fatehpur Sikri was once the capital of the famous Mughal emperor Akbar. It is renowned for the Salim-Chisti Dargah and is located approx 35 km from Agra. Fatehpur Sikri got abandoned in 1585, and the reason for its abandonment was lack of water. Today, Fatehpur Sikri is one of the most famous tourist spots as its unspoiled and outrageous architecture attracts one and all.
Ross Island, Andaman
The island of Andaman is also home to one of the mysterious places in the country. Ross Island in Andaman was once the administrative capital of the island before an earthquake struck and damaged it in 1941. Since then, the island never got back to what it used to be, and today it is being managed and controlled by the Indian Navy.
Shethiahali Church, Karnataka
Have you heard about something as creepy as a drowning church? Well, there is one in Karnataka called Shethiahali Church. This church is something that captures imagination and fascinates people. It is sometimes referred to as a floating church, apart from being called a drowning church. The reason behind these names is the fact that waters around it rise and fall. Especially in the monsoon when you have to explore this church by boat.
Time to wrap up:  
So that concludes our list of ten of the most mysterious or creepy places to visit in India. Which one are you fascinated to visit at least once? We will be grateful if you can mention the name of the places in the comment section below.