When we talk about Madhya Pradesh, we often state how big it is in terms of area. However, apart from its circumference area, Madhya Pradesh is also known for its popular tourist attractions. Madhya means central, and this state is situated right in the center of the Indian map. It is a great place for tourism in the country, enriched with cultural heritage and scenic beauty.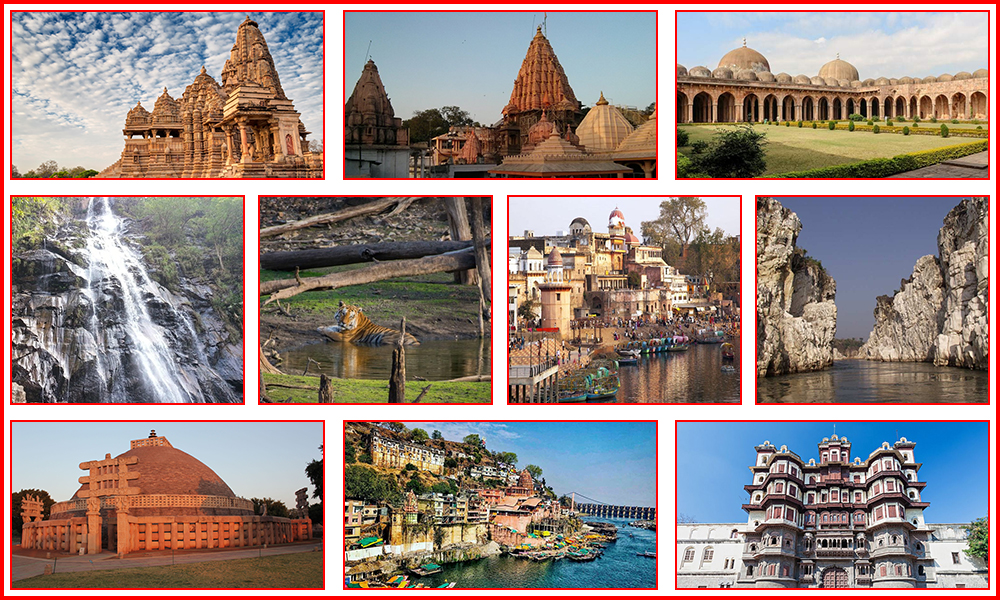 Madhya Pradesh's climate during the summers is quite hot and humid, with an average temperature fluctuating between 24 degrees Celsius and 45 degrees Celsius. May is one such month that is the turning point from summers to monsoon. Therefore, after June and July, you can visit switch n your vacation mode, pack your bags and visit Madhya Pradesh to explore the scenic beauty and cultural heritage. In this blog, we have curated a list of the ten tourist places to visit in Madhya Pradesh. So, without any further ado, let us start with the list. 
The ancient Khajurao Temples

 
Despite being a small city, Khajurao is fondly known for its ancient temples depicting the Khajuraho sculptures. The exquisite hand carvings are proof of the immortal and ancient architecture India has is blessed with. The sculpture showcase the prime example of Indo-Aryan architecture that will live forever. Other leading destinations to visit in Khajurao are Ajaigarh Fort, Beni Sagar Dam, Kalinjar Fort, Dhubela Museum, Panna National Park, Archaeological Museum, etc. 
Ujjain

 
Ujjain stands among the seven important Hindu Pilgrimage centers to attain Mukti (Moksha). Ujjain is famous for The Mahakaleshwar Temple, which is one of the 12 Jyotirlingas of Lord Shiva. Other places to visit in the city are Kal Bhairav Mandir, Chintaman Ganesh Temple, Kalideh Palace, Jantar Mantar, and the Vikram Kirti Mandir Museum. 
Mandu

 
Previously known as Mandavgarh, Mandu is situated at an altitude of 2000 feet. It is a tourist attraction, thanks to its scenic landscape beauty that draws the attention of one and all. Also, the star attraction is one thing you would never want to miss out on. Other attractions of Mandu are Hindola Mahal, Bagh Caves, Rupayan Museum, Chappan Mahal Museum, Rewa Kund, Ship Palace, Rupmati Pavilion, Echo Point, Hoshang Shah's Tomb, etc. 
Panchmarhi

 
Located in the Hoshangabad District of Madhya Pradesh, Pachmarhi is one of the most beautiful and mesmerizing hill stations. Panchmarhi is also known as Satpura Ki Rani, courtesy of its serene waterfalls and caves, including the Pandava Caves. If you are one of those who is fond of sightseeing, Panchmarhi is the place to be in Madhya Pradesh. 
Pench National Park
Are you a wildlife lover? If yes, Pench National Park is the place you should pay a visit. Located in the Seoni and Chhindwara district of Madhya Pradesh, Pench National Park is the home to more than residents and migratory birds. When you reach the national park, you can take a tour of the park with guided safaris and witness exhilarating wildlife, including the Leopards, Tigers, Birds, and other animals. The entry fee per trip is INR 3970 for six persons. 
Chitrakoot
Located in the Satna District of Madhya Pradesh, Chitrakoot is known for its architecture, ethnic culture, and admirable archaeology. It is also known as the Palace of Many Wonders, courtesy of its religious and historical importance. It is believed that the incarnation of Lord Brahma, Vishnu, and Lord Shiva took place in Chitrakoot. 
Jabalpur

 
If you are a lover of nature, there is no better place to be than Jabalpur. It is one of the most favored destinations for tourists seeking nature's beauty, and the icing on the cake stuff is the historical monuments the city has up its sleeves. Some attractive places to visit in Jabalpur include, Bhedaghat, Madan Mahal Fort, Dhuandhar Waterfalls, Balancing Rocks, Bargi Dam, Narmada Valley, Rani Durgavati Museum, Dumna Nature Reserve, etc. 
Sanchi

 
The Sanchi Stupa in Sanchi is a world heritage site. The rich ancient history of the land pokes many history lovers to pay a visit to this beautiful place. Sanchi is also a major attraction for Buddhism followers as it is considered a holy pilgrimage for them. Some of the monuments established here date back 3rd Century BC. The famous places to visit here include Stupas, Ashoka Pillar, Eastern Gateways, Buddhist Vihara, Sanchi Museum, Gupta Temple, The Great Bowl, etc. 
Omkareshwar

 
Omkareshwar is another pious land for the Hindus, and it states a fine example of scenic natural beauty blended with architectural brilliance. One of the most attractive spots is the valley that divides the island that resembles 'OM.' Mamleshwar Temple, Omkareshwar Temple, and Shri Omkareshwar Jyotirlinga are the sumptuous spots to see in the city.
The Rajwada Palace in Indore

 
There are two reasons to visit Indore. Firstly, for the Rajwada Palace, which is one of the oldest royal places in the state, and secondly, it is the cleanest city in the country. The construction of the Rajwada Palace was completed in 1766 by the Holkars. The beautiful palace git destroyed in 1984 by excessive fire in riots but later renovated again 23 years later in March 2007 by Ushadevi Holkar. The outrageous seven-storied palace is located near the Chhatris in Indore.  
Time to wrap up: 
Madhya Pradesh is one of the most fascinating states in the country. The artistic beauty and being one of the 'Abode of Gods' attracts tourists even more. The places we have listed in this article are divine and beautiful, and if you are an ardent traveler, you should pack your bags and visit at least once.