Recreational outdoor sports are perhaps the best way to keep your mind fresh and help yourself with some physical activity. Outdoor sports can either be played with the competitive spirit or for fun, but these activities carry all sorts of fun, thrill, and excitement.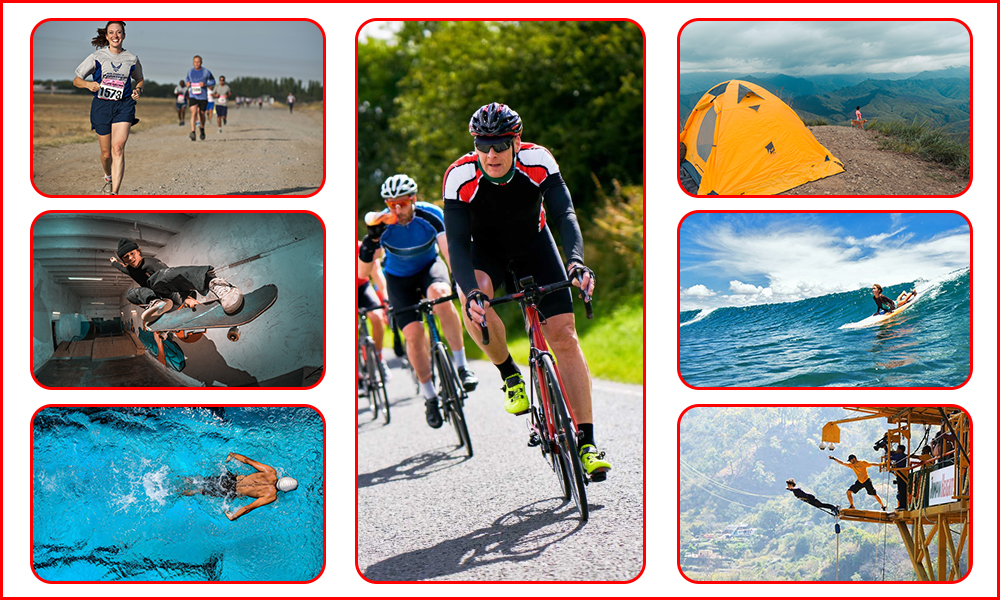 The digitized generation of today isn't aware of the fun and importance of outdoor sports as they are busy with their gadgets and spoiling themselves without any proper physical activity. Today, in this post, I have compiled some of the best outdoor recreational sports that should be played by one and all. So, without any further ado, let us start with the compilation.
Running
Running is perhaps the most inexpensive and basic outdoor recreational sports everyone can do. Running can be done on any street or even indoors on the treadmill. It helps in improving blood circulation and maintain a healthy heart. One of the best things about Running or Jogging could be done by anyone of any age.
Cycling
Cycling is another recreational sport that lends a perfect balance of fun and health benefits. While cycling, you are burning a massive amount of calories. The trend of cycling has been evolving, and many types of competitive cycling have emerged as international sports. Even if you aren't a professional, you can still cycle for fun, joy, and keeping yourself healthy.
Skateboarding
Skateboarding has to be one of the coolest recreational outdoor sport. Skateboarding could be a tricky task for beginners, but once they get into a rhythm it is one of the best relaxation mediums. Skateboarding can be freestyle and with a certain set of rules. However, as a beginner, it is better to start freestyle.
Swimming
Swimming is perhaps one of the best outdoor recreation sport. It keeps your body vitalized and helps your body refreshen. However, two things are a must for swimming. First, you need to have a place to swim, and the other is you should know how to swim. Swimming burns a significant amount of calories and boosts the cardiopulmonary capacity. It also increases flexibility and rejuvenates your immune system.
Camping and Trekking
Camping and trekking might not fall in the category of outdoor sports, but they can be termed outdoor adventures. There are several choices related to camping, including Winter camping, Adventure camping, Canoe camping, Backpacking, and others. The most basic thing for camping is that you should have the right gear because you will be venturing into uninhabited territories and rough terrain. Also, the people who want to go camping in winter should know how to heat a tent without electricity.
Diving and Surfing
Driving and Surfing isn't suitable for beginners as it requires a sort of formal training. It is a risky outdoor recreational sport as it involves injury risk, which will either make you love or hate it. Many people are fond of these water sports, and they always love to challenge themselves. These people constantly look for the perfect wave and dive spot.
Bungee Jumping
Bungee Jumping is yet another adventure-outdoor sport loved by ardent adventurers. Bungee Jumping began as a tribal tradition but later transformed into an extremer sport. Today, it has caught many eyes, and people are avidly looking forward to trying this sport.
Baseball
The national sport of the United States, Baseball has been one of the most popular outdoor games in America, and like any other outdoor sport, it improves your health. Being a team game, Baseball teaches you how to work cohesively, something today's generation should learn at any cost. Moreover, Baseball helps you earn accuracy and preciseness of focusing on an object (ball) and hitting it with utmost strength.
Parkour
Parkour may be one of the riskiest outdoor sports on this list. Parkour is moving at a swift pace in an area and overcoming several physical obstacles with acrobatic moves. Many people don't take it as a sport, but it is definitely one. People play this for fun as there are no set of rules, but it can be competitive at times when there is a challenger involved.
Paintball
Paintball is a team sport that involves shooting. It feels like playing hunger games but without the killing part involved. In Paintball, you will have guns, paint grenades, protective gears, and a compressed air gun. The balls involved here are gelatin capsules with dye-filled in them. There are a set of rules involved, but they vary from game to game. Below is a list of some of the common paintball game types,
Scenario
Strategy
Speedball concept
MilSim
Scenario
Woodsball
You need an urban or wild environment in the outdoors to play Paintball, and this environment may comprise humanmade obstacles.
ALSO READ: A List Of The Best Home Workout Exercises
Time to wrap up: So that concludes our list of the ten most popular outdoor sports to play. If you love playing outdoor recreational sports, consider this list and start playing sports for fun and in a competitive spirit.