Top 10 Comedy Movies Of All Time
Comedy is perhaps the only genre in cinema that is loved and praised by all. It is said that the best comedies in the history of cinema are more than just making you rolling on the floor laughing, but it is something that leaves an impact on your minds that may last forever.
In this comprehension, I have compiled what I think are the best comedy movies among Hollywood and Bollywood. Give this list worth a watch.
10 Best Comedy Movies
1. Modern Times (1936)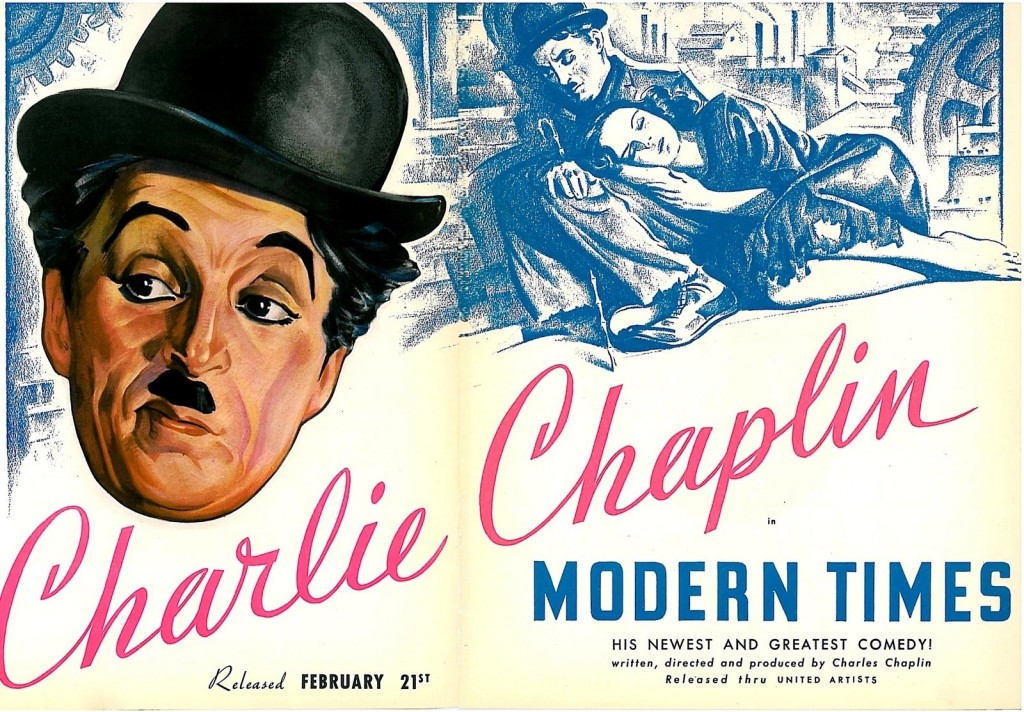 Cast: Chalie Chaplin, Paulette Goddard, Henry Bergman
Director: Charlie Chaplin
Perhaps the best name to start the comedy movies list. The god of comedy Charlie Chaplin's aura was unmatchable then and unmatchable now. There's no one better at what Charlie Chaplin does.
The story is about a little man who attempts to work through a modernized, industrial society. The movie also attempts to deliver a message on how someone can get through life during the great phase of depression. Modern Times is one such movie that should not be missed at any cost.
2. Singin' in the rain (1952)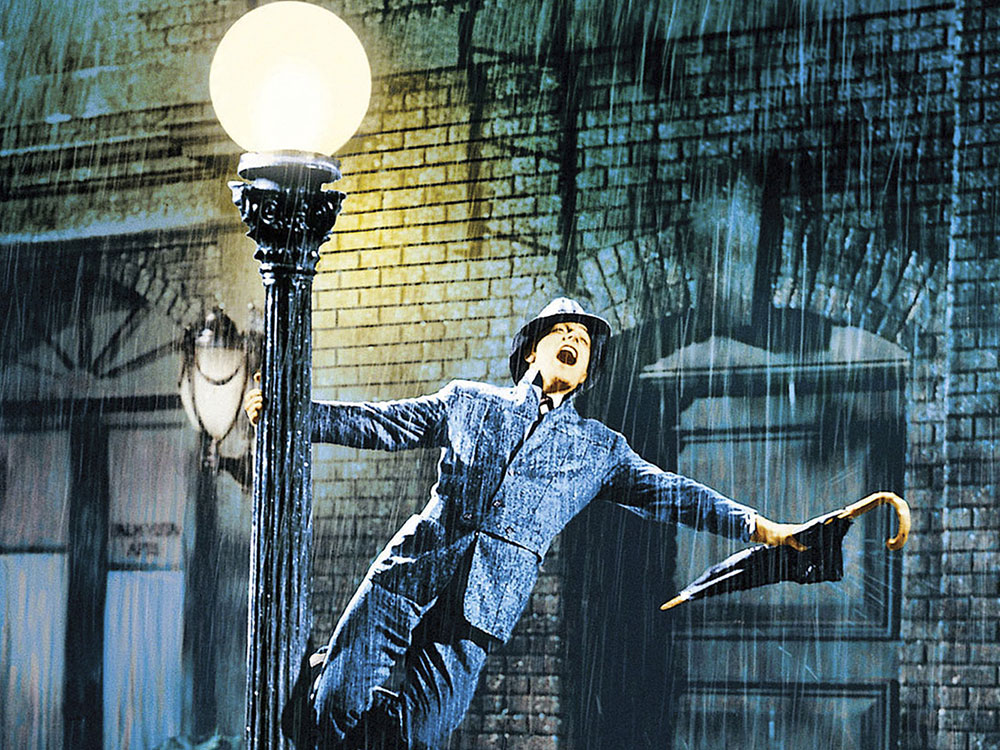 Cast: Gene Kelly, Donald O'Connor, Debbie Reynolds
Directors: Stanley Donen, Gene Kelly
A silent film that focuses on the transition between Hollywood's silent film era. This is one rare Hollywood flick that is loaded with some soothing songs, memorable characters, and iconic scenes.
The storyline revolves around an aspiring actress who is on the verge of completing a voice-over of a woman in a romantic musical.
3. Mean Girls (2004)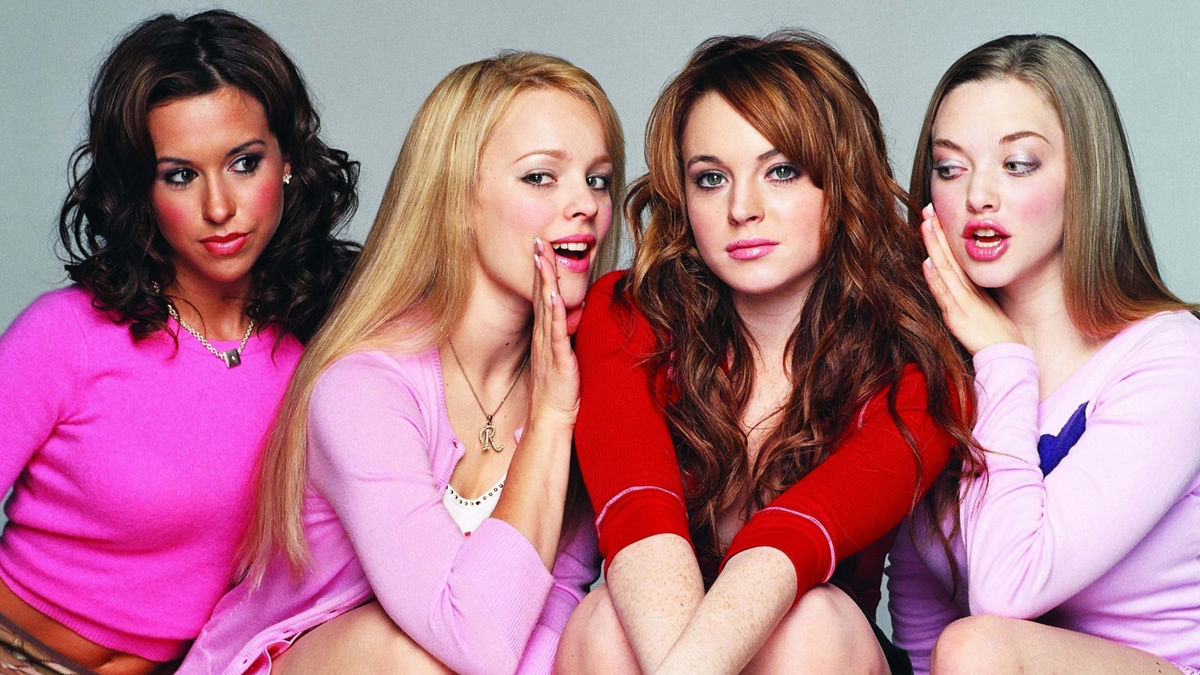 Cast: Lindsay Lohan, Jonathan Bennett
Director: Mark Waters
Mean Girls is considered to have stamped its authority in the Hollywood comedy genre. It is one of the widely popular comedy flicks in Hollywood which has been praised worldwide.
The story is of a teen girl Cady (Lindsay Lohan) who moves from being home-schooled in Africa to an American high school. Her life turns upside down and she finds herself infiltrating the girl clique. The journey of Cady in the American high school is full of outrageous moments that will make you laugh.
4. Zootopia (2016)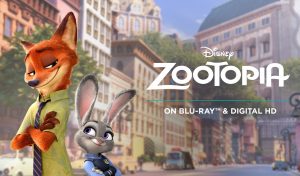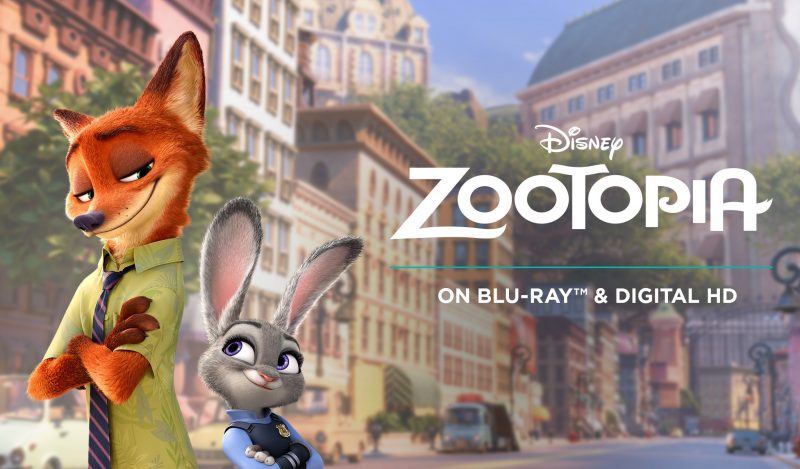 Cast: Ginnifer Goodwin, Jason Bateman, Idris Elba
Directors: Byron Howard, Rich Moore
Disney has delivered some memorable animation flicks, and Zootopia is among the best. Animation films are better suited for comedy, and Zootopia has made its name in that parameter.
The movie is all about prejudice, racial diversity, and fancied police chases. In a city of anthropomorphic animals, a rookie bunny cop and a con artist fox artist must work in unison to reveal a conspiracy.
5. The Farewell (2019)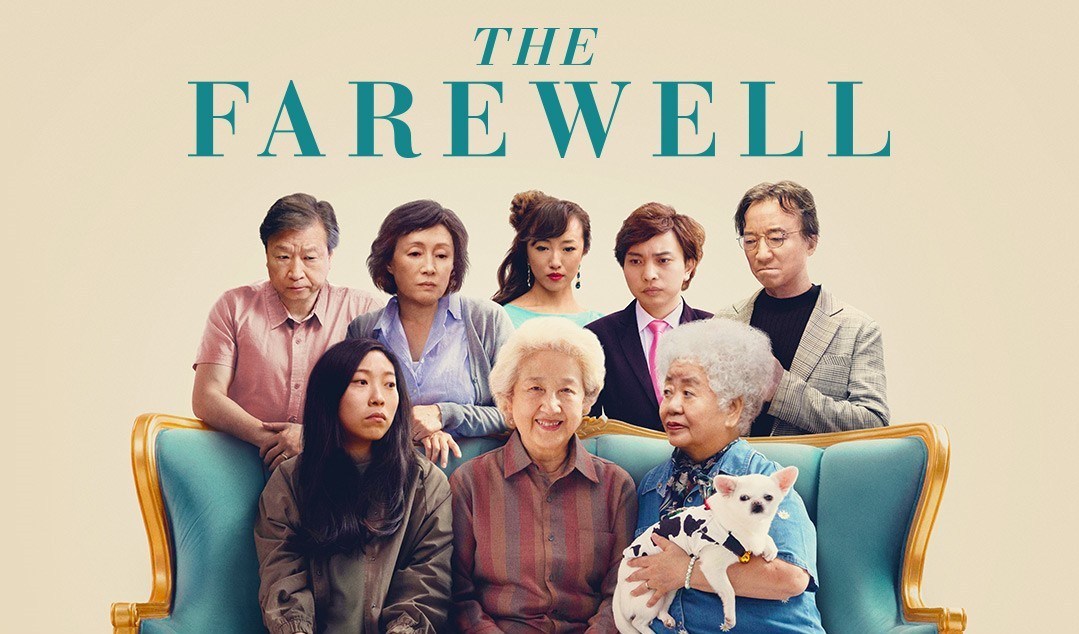 Cast: Shuzhen Zhao, Awkwafina, X Mayo
Director: Lulu Wang
The Farewell depicts two scenarios. One is emotional the other is hilarious. The movie is all about a Chinese family that discovers their grandmother is about to die soon.
This reason pokes the family to throw a wedding to reunite with her in China before she bids adieu. The comedy arises in the course of the wedding preparations, and the strong acting of the character was the icing on the cake.
6. Gol Maal (1979)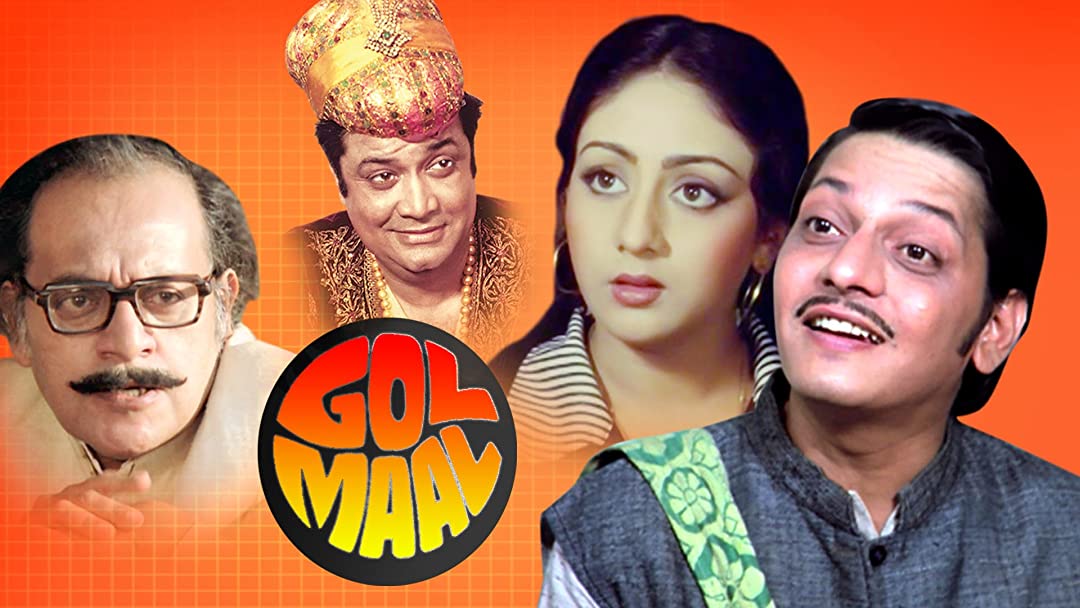 Director: Hrishikesh Mukherjee
Stars: Amol Palekar, Bindiya Sharma, Deven Verma
Ramprasad is ongoing college alumni who get a new line of work with a finicky man, Bhavani Shankar, who accepts that a man without a mustache is a man without a character. Bhavani Shankar is additionally against any of his representatives enjoying diversion of any sort. When Ramprasad is gotten by his supervisor at a hockey coordinate, he needs to design a twin sibling, the clean-shaven Laxman Prasad, to spare his activity.
At the point when Bhavani's girl falls in love with the clean-shaven Laxman Prasad, and demands wedding him, and Bhavani demands she ought to wed Ramprasad, things take a whacky turn. A phony mother and an entertaining pursue are other charming highlights associated with this parody.
7. Andaz Apna Apna (1994)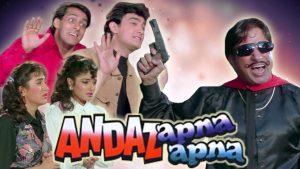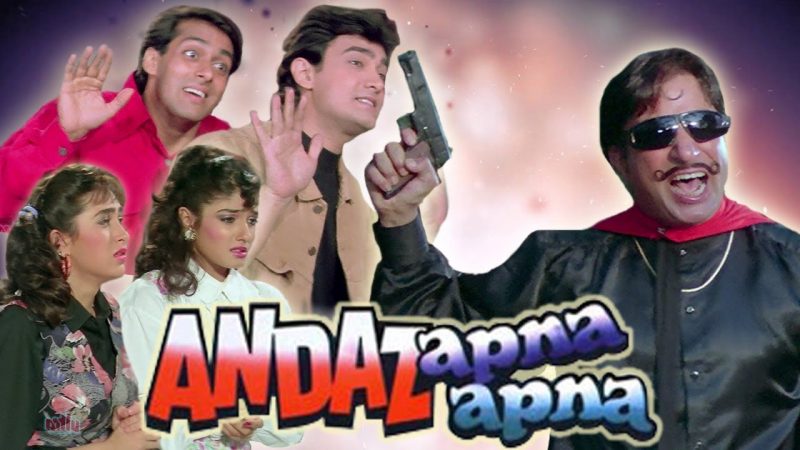 Director: Rajkumar Santoshi
Stars: Aamir Khan, Salman Khan, Raveena Tandon, Karishma Kapoor
Amar and Prem are two opponents who discover approaches to get rich rapidly. Disorder and sharpness result when both show up to win the hand of the little girl of multi-mogul Ram Gopal Bajaj amid impressive changes when Shyam, the twin sibling of Ram, chooses to get rid of Ram and expect his character and accordingly assume control over the domain of the Bajaj family.
8. Welcome (2007)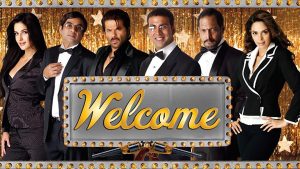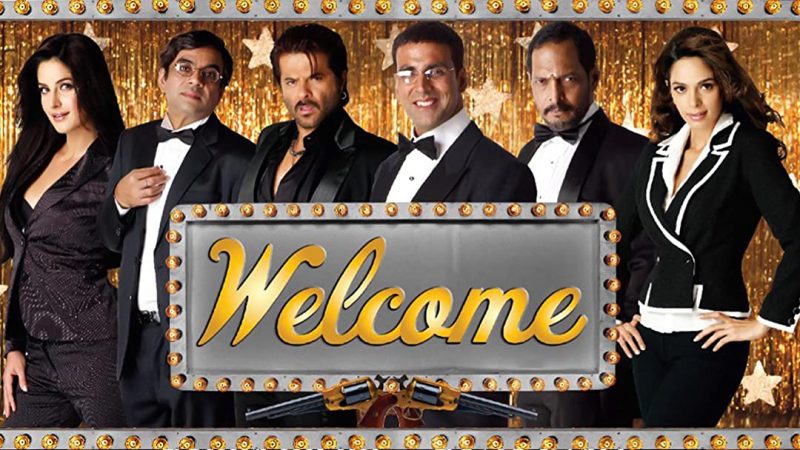 Director: Anees Bazmee
Stars: Akshay Kumar, Katrina Kaif, Nana Patekar, Anil Kapoor
Uday Shetty, an underworld Don is searching a groom for his sister Sanjana but is not able to find one as no one wants to marry a don's sister. Majnu Bhai another Don who considers Uday an older brother comes across Rajiv and feels he is a prospective groom for her and wants his uncle Dr. Ghungroo to marry Rajiv to Sanjana.
Dr. Ghungroo does not want Rajiv to marry the don's sister. So, he takes the family away from the city where Rajiv falls in love with Sanjana. Dr. Ghungroo later tries to sabotage their engagement and is against their wedding. At last, the couple's fate is determined.
9. Golmaal (2006)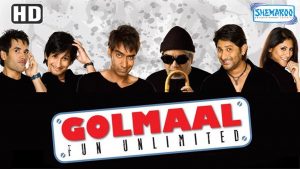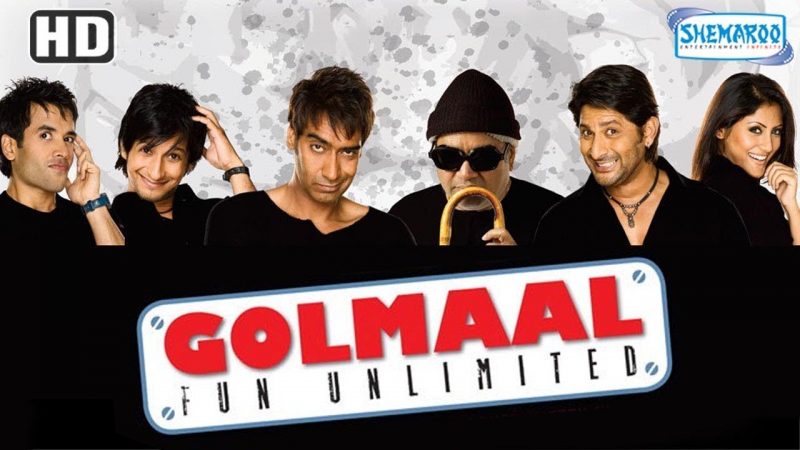 Director: Rohit Shetty
Stars: Ajay Devgn, Arshad Warsi, Sharman Joshi, Tushar Kapoor
Trying to evade their debtor Vasooli Bhai, four absolute-good-for-nothing con-men force themselves into a blind couple's home, pretending that one of them is the couple's grandson who has returned from America after a long time. There they meet the beautiful neighbor and promptly fall in love. As the story unfolds, they try to foil a gangster's plan to retrieve stolen diamonds.
Suggested: Top 10 Coming Of Age Movies Since 2000 For Immersive Experience
10. Phir Hera Pheri (2006)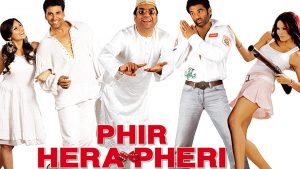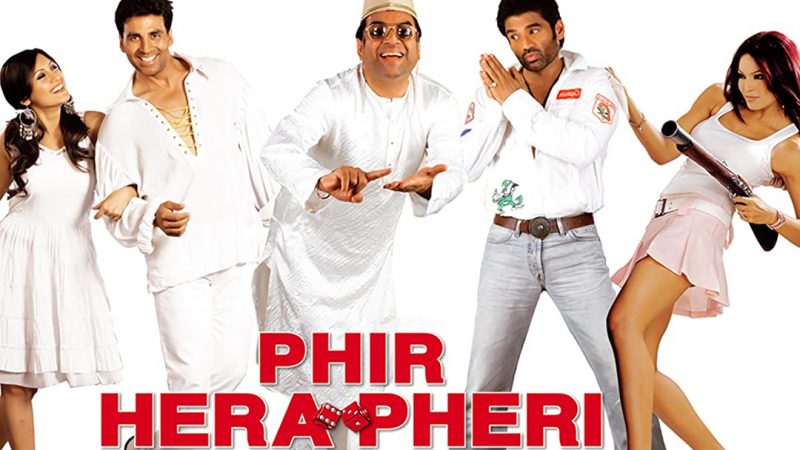 Director: Neeraj Vora
Stars: Akshay Kumar, Sunil Shetty, Paresh Rawal
The second installment of the ever so popular Hera Pheri is the story of three opportunists. After losing all their fortune in a scheme to double their money, Baburao, Shyam and Raju are back to living in poverty. They make attempts to get rich again and in-process end up stealing the money from thieves and getting in crosshair with a dangerous gangster in town.
Conclusion:
Comedy genres always help in relaxing the brain's nerves. Depending on your mood for the day, you can choose to binge-watch a comedy show or even chose from the best comedy movies on offer from both Hollywood and Bollywood.
I have mentioned some of the best comedy flicks to choose from that might make your day filled with laughter.